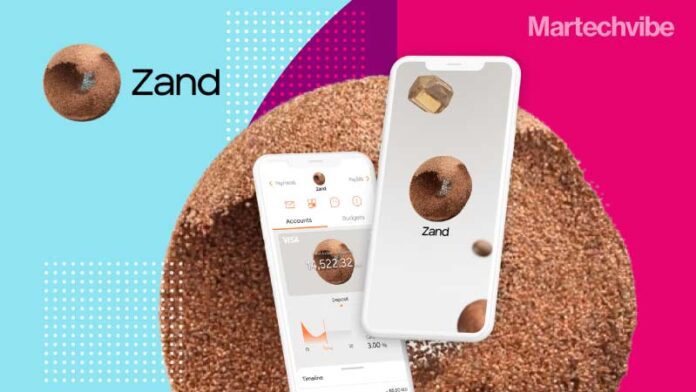 A digital economic accelerator, Zand Bank PJSC is setting the foundations for a broader generation of financial experience.
The number of adults in the UAE with a neobank account grew to 19 per cent this year, up from 17 per cent in 2021. While an additional 15 per cent plan to open a neobank account within 12 months, taking adoption to a forecasted 34 per cent in 2023, according to an online survey of 1,015 internet users released by finder.com, the UK-based comparison platform.
Distancing itself from outdated systems and processes, Zand Bank PJSC started its journey to become the first digital bank in UAE after it obtained a banking licence from the Central Bank of the UAE on June 30. This Franklin-Templeton-backed bank is all set to become a digital economic accelerator by providing the foundations for a broader generation of digital services. The bank promises to transform the banking scene in UAE by making banking quicker and simpler by providing tools that put customers in control of their financial lives.
Banking Licence
"With the UAE's ambitious digital agenda and innovative regulatory approach, the country's banking industry is rapidly progressing towards a digital world. The Central Bank of the UAE is already paving the way for new native digital banks by establishing a dedicated FinTech office," said Olivier Crespin, Co-founder & CEO of Zand.
Zand successfully landed its first corporate customer after obtaining a banking licence from the Central Bank of the UAE. Now known as Zand PJSC, it will be the first digital bank providing both retail and corporate services. Emaar Properties founder Mohamed Alabbar and LuLu owner Yusuff Ali are stakeholders of this bank, which is now authorised and regulated to operate as a fully independent commercial bank.
The bank aims to provide its corporate and individual customers with a banking experience underpinned by security, transparency, and convenience. Zand's corporate services promise that businesses will have control over their relationship with the bank. Its board of directors announced that its products are designed to enhance the digital experience. This includes seamless onboarding, fast account opening and an automated loan approval process.
Digitisation of Banks
Before Zand positioned itself as the first digital bank, Emirates NBD, Mashreq and Commercial Bank of Dubai, some of the prominent banks in UAE invested in the digital transformation of their existing banking models and began offering digital-first banking in the UAE starting 2016.
Emirates NBD's Liv. Mashreq's Neo and CBD's Digi accounts focused on branchless delivery of banking services to their customers using mobile banking technology.
NBD's Liv. has over 500,000 customers now. Similarly, Mashreq Neo's customer base is growing exponentially with the majority of its customers being acquired through Neo Mobile App. Customers are reacting positively to digital initiatives like Face Biometric and Neo Credit.
Dubai Islamic Bank (DIB) launched its digital only platform Rabbit, and Abu Dhabi Islamic Bank (ADIB) is also racing to serve its customers digitally.
How it all began
Before obtaining a banking licence, Zand started its journey in December 2021, when it announced the acquisition of the majority shares of Dubai Bank.
While announcing this partnership, Crespin said that customers demanded and deserved relevant, intuitive, and easy solutions.
Stakeholders
Zand revealed its list of shareholders in February. The list included Aditya Birla Group (Solfrid Investments Pte. Ltd), Al Hail Holding LLC, Al Sayyah and Sons Investments LLC, Franklin Templeton, Global Development Group, Mohamed Alabbar, Olivier Crespin, and Yusuff Ali M. A.
Known for its technological innovation, Alabbar is expected to play a significant role in digitally transforming the UAE.
The Aditya Birla Group brings unmatched global operating experience across diverse sectors and markets spanning 36 countries, and a formidable financial services experience.
Yusuff Ali M. A, the Chairman and Managing Director of the retail conglomerate Lulu Group, will strengthen Zand's evolutionary path.
Board Of Directors
Before the imminent launch, Zand announced the formation of its Board of Directors. Mohamed Alabbar is a Chairman of the Board. The Chief Commercial Officer of Emirates, Adnan Abdulfattah Kazim Abdulfattah joined the board as an independent director. Abdulfattah is also on the Board of Emirates Airline Foundation and the Chairman of Emaar Development.
Gregory Johnson the Executive Chairman and Chairman of the Board of Franklin Resources, Inc represents Franklin Templeton.
Conclusion
Zand has a steep challenge ahead of it in ensuring satisfactory customer service, account administration, pricing and enhancing overall digital experience for customers. If this new bank delivers on all its promises is something that only time will tell.
If you liked reading this, you might like our other stories
Martech Spotlight: Mashreq Bank 
For The Marketer's Book Shelf