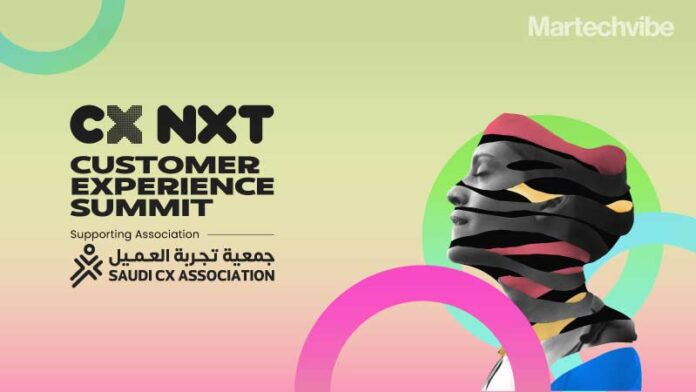 CX NXT 2023, organised by Martechvibe, will take place in the Kingdom of Saudi Arabia (KSA) on March 14-15, 2023 in association with The Saudi Customer Experience Association. It will follow a conference-workshop format 
The biggest customer experience summit – CX NXT – is set to take place on March 14-15, 2023 in Riyadh. This year, CX NXT – KSA will take the form of a conference-workshop to focus on thought leadership about trends that are driving the CX conversation in the region, and pursue in-depth workshops that delve into how to achieve enterprise goals. 
The Kingdom is on the cusp of a CX revolution. According to a 2020 report, 96 percent of businesses in Saudi Arabia listed customer experience as a top priority. In the current scenario where market conditions are constantly changing, great customer experience breeds loyalty boosts overall brand well-being.
CX Saudi – the customer experience association for professionals in the Kingdom of Saudi Arabia and CX NXT share a unified approach to advance CX capabilities in the region. The summit works to further awareness of emerging technologies, increase understanding of solutions to ease enterprise-level CX challenges and facilitate networking to build a strong sense of community. 
"Brands in the Kingdom, and government services are taking customer service and experience to new heights. In return, we see consumers and citizen loyalty on a rise. We can learn from these leading brands, and collectively take the CX landscape to the next level. Our endeavour is to liaise and bring tech players and marketers together so brands can add value to their customers while meeting business goals," said Sanjay Swamy, Director, Martechvibe.     
"If we are not willing for an extraordinary CX industry impact, we will have to settle for the ordinary," said Abdullah AlGhamedi, Chairman of Saudi CX Association.
Over 200 delegates are scheduled to attend CX NXT which will cover CX priorities like identifying the right technologies to ease personalisation, adapting to the phygital space, building a digital roadmap for advanced CX, leveraging conversational AI, and how data mining can help measure marketing success.
For more information and registration, visit cx-nxt.