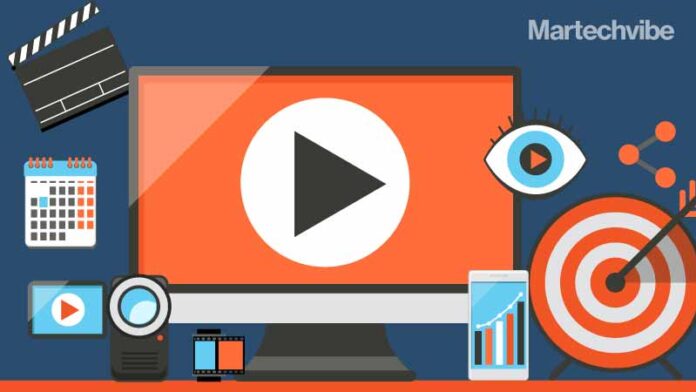 Vidyard, the video platform for businesses, announced a year of record-breaking growth, new product offerings, and an expanded partner ecosystem as demand for video tools for virtual selling and digital marketing continues to surge.
Wrapping up its most successful fiscal year in the company's history, Vidyard added more than 5,000 new business and enterprise customers with more than 7 million users across its platform. Adoption of its video messaging and screen recording tools increased by more than 250 per cent as sales and marketing teams across high tech, SaaS, financial services, professional services, and other industries expand their use of asynchronous video for remote sales, marketing, and customer service.
As the pandemic drove industries around the globe to accelerate their digital transformations, companies turned to Vidyard's solutions to engage their customers and prospects more effectively. Companies have adapted to using remote human interactions to connect with customers, while buyers have expressed they prefer this method due to the ease of scheduling, flexibility, and travel and expenses (T&E) savings. Even with the global reopening of the economy, Vidyard believes these changes in how business gets done are here to stay.
Also Read: Have You Tried Video Marketing?
Here is what we learned from their benchmark report; 
Overall total video creation increased 135 per cent over 2019   

60 per cent of all videos created in 2020 were user-generated or user-recorded, representing an increase of 128 per cent over user-generated content in 2019

User-generated video creation increased 44 per cent in the second quarter of the 2020 calendar year—aligning with the initial stages of the COVID-19 pandemic 

The average video length across all videos included in this report is 6.06 minutes 

On average, 45 per cent of viewers watch a video all the way through, regardless of the video's length—down from the 52 per cent who would do the same in 2019. Just over half (58 per cent) of viewers watch a video to the end if it's less than 60 seconds, but only 24 per cent will finish a video if it's more than 20 minutes  

Organisations in high tech reign supreme when it comes to overall video creation (583 average total videos) and user-generated videos (339 average). If we look exclusively at produced or uploaded video, retail and consumer goods inch ahead with an average of 248 videos per company

Approximately 75 per cent of video content created by companies under 200 employees is user-generated, while only 45 per cent of the video content created by organisations with more than 600 employees is user-generated

This year, over half of small and medium companies moved towards using internal resources for video production

The most common types of videos are product demos, how-to's, explainers, and webinars. Social media, websites, and YouTube are the most popular distribution channels for video content. 

The types of video with the largest growth include how-to videos, with a 50 per cent increase over 2019 results, and one-to-one videos, with 471 per cent year-over-year growth 

In 2020, 73 per cent of companies reported using some form of video analytics. Those exploiting the analytics features that an online video platform has to offer report the highest satisfaction with their video investments 
The move to digital-first work has translated to a digital-first approach to the way we connect with prospects, customers, and each other. Whether it's through live Zoom calls, virtual event experiences, or asynchronous video messaging—the use of video exploded in 2020. As we move into 2021 (and where we see the trends taking us), that trajectory isn't expected to change. As the use of video increases, it's important to have benchmarks to guide best practices, identify opportunities, and evaluate success. Video in Business Benchmark Report analyses business' use of video to support sales, marketing, and communication efforts.