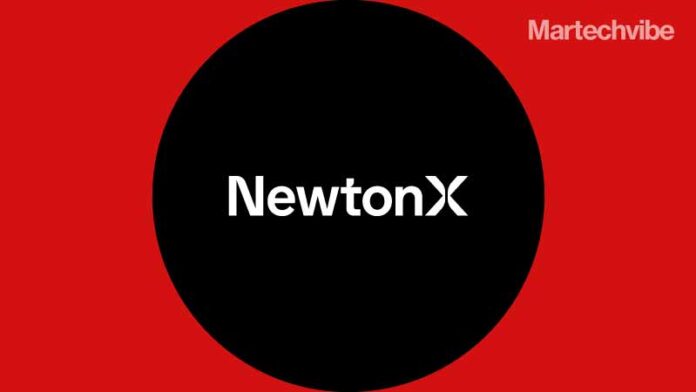 NewtonX, the B2B market research and intelligence company announced the closing of a $32 million Series B funding round.
The round is led by Marbruck Investments with support from Level One Fund backed by UBS O'Connor, Gaingels, and Heliad Partners. Existing investors Two Sigma, Third Prime, XFund, Story Ventures and Switch participated as well. This round brings NewtonX's total amount of funding to $47 million.
The company was founded on the belief that for organisations to thrive in the Global Innovation Economy, business strategists, leaders, and professionals must rely on validated, actionable insights to compete and survive in today's economy.
Business leaders agree that data-driven organisations have a competitive advantage. While 98 per cent of leaders acknowledge the need for high-quality data, only 51 per cent have access to the data they need; and there is a large degree of distrust in available information.
Also Read: B2B Consumer Trends in 2021 and Beyond

NewtonX's AI-driven B2B market research and intelligence solution eliminates the data trust deficit. With year-over-year growth in excess of 130 per cent, NewtonX proudly serves organisations of all sizes and industries from Fortune 500 to the top consulting firms, financial institutions, leading market research firms and mid-sized companies.
"Together, with our valued customers like Microsoft, Fortune, and Pinterest, NewtonX has ushered in a new standard of truth in B2B market research and made access to authenticated insights accessible to more business users than ever before. Every day, business leaders and professionals across their organisations are making decisions with confidence and attaining expected business outcomes with insights powered by NewtonX," said Sascha Eder, CEO and co-founder, NewtonX.
The new funding will be used to expand engineering, further develop its product suite, and build out the sales and marketing teams to increase NewtonX's brand awareness among business leaders. In an effort to further democratise access NewtonX's high-quality B2B insights, clients will soon be able to receive answers to their business questions faster than ever before, access syndicated research and all of it at a fraction of the cost of traditional B2B market research.
"In just five years NewtonX has established itself as the leader in B2B research and is used by the world's leading companies that trust NewtonX to get the data they need to make multi-million dollar decisions," said Kemper Shaw at Marbruck Ventures. "As investors, we have the need to access insights ourselves and see the value of NewtonX's technology first hand. Their knowledge graph and custom recruiting automation allows them to connect business leaders to insights they previously could not access or where they had to question the validity of the data, NewtonX solved this problem and will be a critical part of companies' competitive edge in the years to come."
"As the largest investor network focused on supporting and investing in the best venture-backed companies that embrace and value diverse leadership, including LGBTQ+, Gaingels is proud of participating in this financing. We are resolved to help the company grow and scale while strengthening its prospects of success by building a culture that reflects the diversity of its executive team, staff, and customers," said Lorenzo Thione, Managing Director at Gaingels.