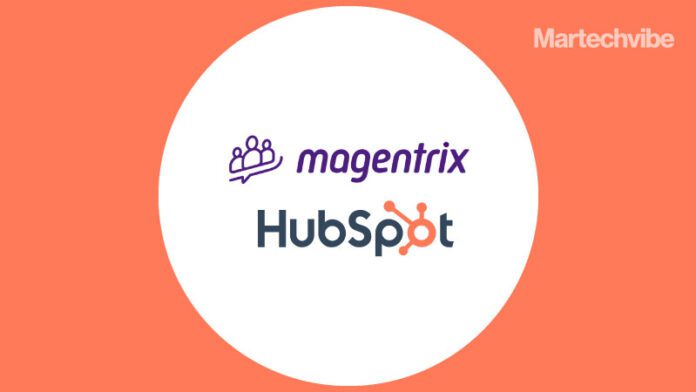 Magentrix PRM announced that it is now a HubSpot app partner. App Partners are independent software vendors who have built an integration with HubSpot and been accepted to the App Marketplace.
Vendors utilising HubSpot as their CRM, can leverage the Magentrix integration for managing and growing their partner ecosystems, with a multitude of tools for partner ecosystem management (PEM) and partner relationship management (PRM). Tools to aid in: visibility into a vendor's indirect sales pipelines, identifying potential hurdles that interfere with growing partner sales, encouraging partner interactions, and expanding partner ecosystems by enabling collaboration and innovation opportunities.
This integration supports:
Full bi-directional syncing between Magentrix and HubSpot for company, contact, and deal objects.
Custom field sync
Ability to assign deal to partners from HubSpot and update partners' pipeline in Magentrix
Ability to leverage HubSpot CRM data to fuel the Magentrix PRM automations, forms, segmentation and other partner management features.
Magentrix stands out in the PRM category of the HubSpot App Marketplace due to its ability to meet customers' unique requirements, with the nature of the software being a true platform as a service (PaaS). A competitive advantage to any user's tech stack, Magentrix's capabilities as a PaaS serves as a solution to even the most complex partner ecosystem challenges a vendor may have.
"We're proud to partner with HubSpot, a revolutionary influence behind the modern-day standard in marketing automation software, in this exciting period of growth," said Sam Arjmandi, cofounder and CTO at Magentrix. "The HubSpot CRM platform has long been a valuable part of our customer tech stack. We're excited to offer this integration and officially make it a part of the HubSpot App Marketplace. HubSpot customers with growing partner programs can benefit from this CRM and PRM integration as they'll now be able to resolve various partner management challenges such as providing more transparency to partners, helping eliminate channel conflict, creating opportunities for partner collaboration and increasing partner engagement."