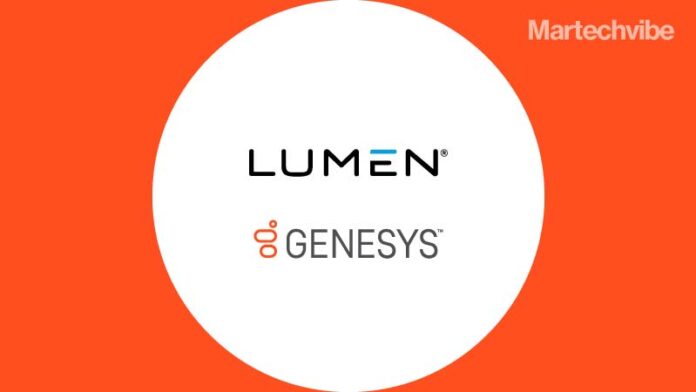 Lumen's solution enables companies to listen to and understand their customers and employees, predict actions, and shape what comes next to drive meaningful business outcomes.
Lumen Technologies has launched Lumen Solutions for Contact Center–Genesys Cloud through an expanded partnership with Genesys.
Lumen Solutions for Contact Center–Genesys Cloud is a contact centre-as-a-service (CCaaS) offering that helps companies move from legacy contact centre services to cloud-based or hybrid solutions.
"Moving from older contact centre infrastructure to the latest technologies is a major change for companies, but the massive improvements to efficiency and effectiveness make it worth the effort," said Craig Richter, senior director of unified communications and collaboration product management at Lumen, in a statement. "Legacy platforms are capital-intensive, while newer cloud-based or hybrid solutions are much more flexible and cost-effective."
Lumen Solutions for Contact Center–Genesys Cloud incorporates the following contact centre functionality:
Speech-enabled interactive voice response (IVR);

Automatic call distribution (ACD);

Skills-based queuing and routing of interactions;

Recording and archival of all interaction types;

Sentiment analysis;

Real-time monitoring and supervision and insightful data analytics from Genesys Cloud; and

Artificial intelligence to automate customer interactions through voice or chatbots.
"Our expanded partnership with Lumen will offer customers a way to orchestrate end-to-end journeys," said Marc Donnelly, vice president of partner and alliances at Genesys, in a statement. "This solution enables them to listen to and understand their customers and employees, predict actions, and shape what comes next to drive meaningful business outcomes."
"According to our research, customer engagement technology will be hot in 2023, with 65.1 per cent of companies planning to increase their spending, more than any other area, including security, professional services, WAN, or wireless," said Robin Gareiss, CEO of Metrigy, in a statement. "Many companies are moving to cloud platforms to improve agility and serve remote workers better, and 37.8 per cent use or plan to use service providers such as Lumen for various reasons, including solid network performance/reliability, lower costs, security capabilities, and bundled services. The Lumen/Genesys partnership delivers the benefits of a cloud platform with the additional value a network service provider brings."