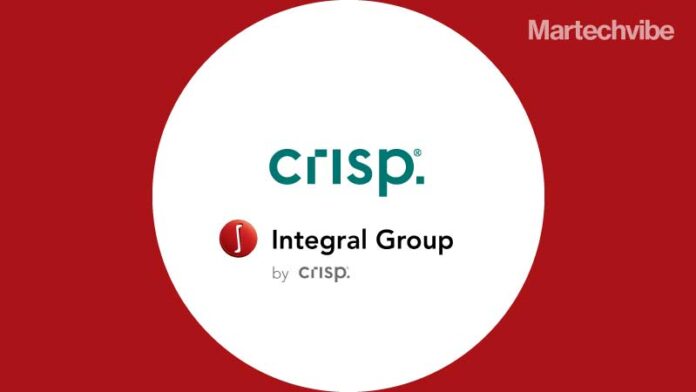 CPG suppliers will gain a holistic view of their retail business through the merging of retail point-of-sale and inventory data with ordering, shipment and invoicing data
Crisp, an open-data platform for the retail industry, has announced its acquisition of the Electronic Data Interchange (EDI) platform Integral Group. Integral Group brings to Crisp nearly 40 years of experience in EDI technology, along with a robust platform that integrates core EDI compliance with systems and applications across the enterprise – including order management, inventory, ERP, warehouse management, transportation management and shipping workflows.
Integral Group currently serves hundreds of customers, including manufacturers, distributors and 3PL providers, helping them achieve trade compliance across grocery, retail, pharmacy and automotive chains.
Crisp's platform ingests data for its CPG customers from over 40 retailers and distributors, piping harmonised data sets – down to the store and product level – in its native dashboards, and has outbound integrations to BI and Cloud platforms. Hundreds of brands count on the Crisp platform for timely retail data, granular performance reports and actionable insights.
Welcoming Integral is an important step towards Crisp's vision of realising a more connected, high-performing, sustainable supply chain. "We are gaining a very talented team with deep experience supporting customers in the EDI space," explains Crisp CEO and Founder Are Traasdahl. "Combining EDI, point-of-sale, and inventory data sets in one place can facilitate an entirely new, deeper set of insights to help brands optimise operations and realise new sales opportunities."
The acquisition brings together two data sets critical to the supplier-retailer relationship. "Crisp and Integral Group serve the same kinds of companies but offer complementary solutions," says Integral CEO Tamas Perlaky."Integral Group's solution helps our customers get their products into stores or retail distribution centres, while Crisp's solution helps them understand what happens to their products after that point."
Together, Crisp and Integral will streamline collaboration between retailers and suppliers and enable cohesive, end-to-end data integration within the CPG enterprise. This joining of forces represents a new step in supply chain transparency, helping brands track a product through its lifecycle. Such visibility supports Crisp's mission to solve global food waste with better access to data.