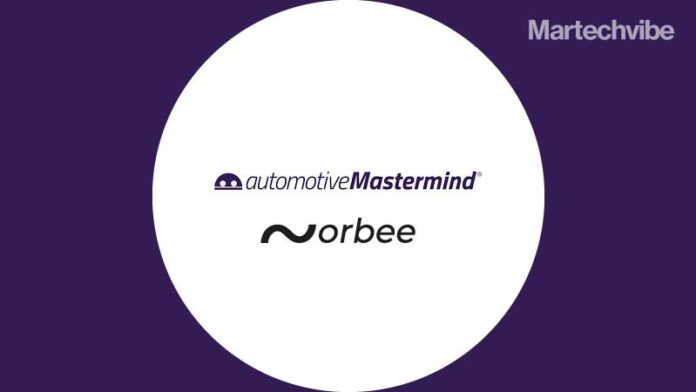 Dealer partners will gain access to advanced customer journey data to strengthen data mining
automotiveMastermind (aM), part of S&P Global Mobility and the leading provider of predictive analytics and marketing automation solutions for dealerships, has announced a strategic partnership with Orbee, a leading provider of customer experience middleware for dealerships. Orbee's Customer Data Platform will be integrated into Mastermind, aM's proprietary automated sales and marketing platform.
Through the integration, aM will enable dealer partners to unlock greater personalisation and optimisation by taking advantage of first-party data intelligence from their customers' behaviours on their websites and all interaction touch points, including digital retailing, chat, credit and more. Orbee's middleware will also seamlessly integrate and map multiple data streams from aM to further understand the full customer journey.
"The Customer Data Platform landscape is evolving quickly, and it's very exciting for the industry," said Aaron Baldwin, chief product officer at automotiveMastermind. "Our strategic partnership with Orbee expands our deployment capabilities and enhances our Behavior Prediction Score® with real-time shopping behaviour. Our 10-year history of predicting who is in the market, when, for what vehicle and at what price now combined with Orbee's Customer Data Platform will give our dealer partners a more actionable view of their customers to include during the sales process."
With this partnership, dealerships which already use Orbee and aM for their rooftop or across their group will be able to connect their historical CDP data, including shopper signals and segments, to improve their loyalty and conquest campaigns.
"The collaboration with automotiveMastermind is a big step for the industry as a whole because it signifies the importance of integration and cross-pollination of data and technology expertise," said Atul Patel, co-founder and CEO of Orbee. "Dealerships need companies with powerful capabilities to come together to offer them more seamless solutions that truly drive more engagement and conversion while offering their sales and service shoppers experiences that will delight them, transforming the common perception of dealerships and keeping them relevant in the mobility markets."