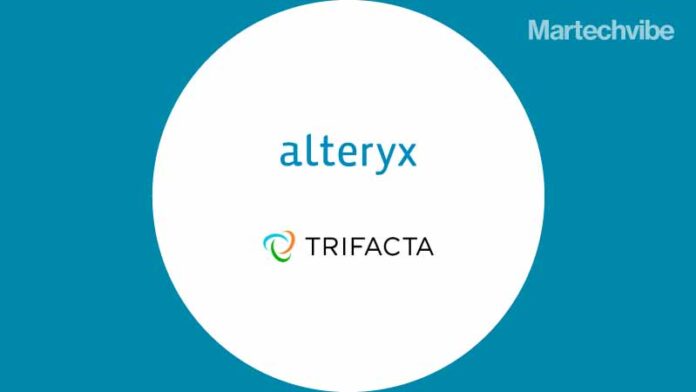 Alteryx, the analytics automation company, announced it has entered into a definitive agreement to acquire Trifacta, an award-winning cloud company that leverages scalable data management and machine learning to make data analytics faster and more intuitive.
Enterprise customers are deploying modern data architectures built upon cloud data warehouses and supporting SaaS-based applications and analytics. Meanwhile, business users' appetite for timely insights from these large cloud datasets to fuel their digital transformation efforts is at an all-time high, thus driving the need for scalable, secure solutions to access and automate data analysis.
Trifacta offers cloud-first capabilities to help enterprises drive their analytics transformation and has gained a strong footprint into Global 2000 and large enterprises. This acquisition will anchor and accelerate Alteryx's journey to the cloud and open new categories of buyers across IT within large enterprises.
Also Read: How do Brands Look at Social Media?
"Trifacta brings highly skilled cloud-first engineering, product and go-to-market teams with decades of combined experience building and bringing to market mission-critical, cloud native analytics solutions. Together, Trifacta and Alteryx expand our total addressable market with additional opportunities to target new data and cloud transformation initiatives for Global 2000 customers," said Mark Anderson, CEO of Alteryx.
"With Trifacta, our combined cloud platform will serve the needs of entire enterprises from data analytics teams and IT/technology teams to line of business users."
Trifacta provides proven, scalable cloud data management capabilities natively and securely for major cloud deployments, including Google Cloud Platform (GCP), Amazon Web Services (AWS) and Microsoft Azure. Alteryx intends to combine its leading low code/no code analytics solution with Trifacta's cloud native capabilities to offer flexible deployment options — on-premises, hybrid and cloud — to meet enterprise customers' analytics needs.
"We're incredibly excited to join forces with Alteryx to create the industry's leading independent cloud analytics provider," said Adam Wilson, CEO of Trifacta. "Together, we have the opportunity to enable thousands of customers globally to unlock powerful business insights with the combination of Trifacta's Data Engineering Cloud and Alteryx's Analytics Automation platform."