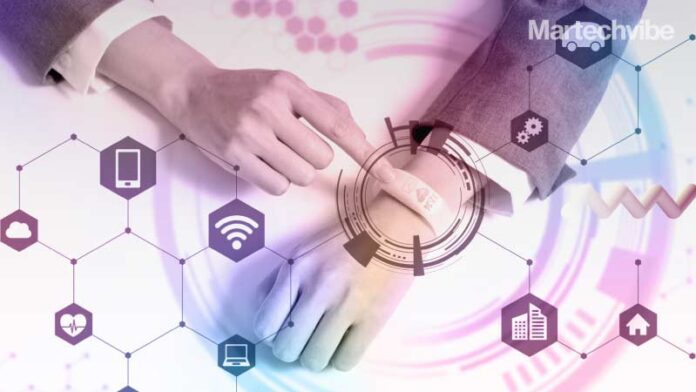 Over the past few years, we have seen an acceleration in the adoption of wearable medical technology.
A new global study by Cisco AppDynamics has found that 47 per cent of consumers in the UAE currently use at least one wearable health technology device, and this number is set to increase, with 88 per cent of people (15 per cent higher than the global average) planning to increase their use of wearable technologies and associated applications over the next 12 months.
Whether it's a smartwatch, bracelet, or ECG monitor, people are using these devices to monitor and improve a wide range of matters relating to their health and wellbeing. Additionally, between the pandemic-induced restrictions in face-to-face interactions with medical professionals, improved 5G network connectivity across the region, and improved functionality of devices, people are no longer viewing wearable technology as just a way to track and manage their general physical fitness. For instance, 92 per cent of UAE consumers want to use health technology, including wearables, to manage chronic or ongoing health conditions. In comparison, 93 per cent want to be able to identify the early warning signs of life-threatening illnesses or diseases (such as cancer) through wearable medical technology.
Of course, the opportunities are vast for the wearable medical technology sector. Recent data showed that the global wearable healthcare market is projected to reach $30.1 billion by 2026 from $16.2 billion in 2021. Furthermore, according to Deloitte, 320 million consumer medical wearables will ship globally in 2022.
In many ways, the industry is witnessing a watershed moment, where seemingly insatiable consumer demand is combining with phenomenal innovation to drive mass adoption of wearable medical technology.

UAE consumer reliance on wearable technology raises the stakes around seamless digital experience and trust.
These are extremely exciting times for vendors and service providers in the wearable technology market. But in a rush to avoid missing out on the myriad of opportunities that lie ahead, they must recognise that consumer expectations around technology and digital services have shifted dramatically during the pandemic.
As a case in point, a Cisco AppDynamics report last year found that since the start of the COVID-19 pandemic, consumers across the Emirates have become more reliant on applications and digital services as part of their everyday lives, but at the same time, they have also become more demanding and intolerant of poor digital experiences. Seventy-three per cent of UAE respondents (a massive 16 per cent higher than the global average) said that brands have "one shot to impress," and if they fail to offer a good experience, they will move to a competitor.
So, when it comes to the wearable medical technology market, it's important to consider the entire user experience beyond the shiny devices people wear around their wrists. The reality is that these devices are essentially there to record health data and feed it through to applications that collect this data and provide people with information and analysis on their health, wellbeing, and fitness.
The risk is that if these applications don't work as they should — for instance, if they are slow or unresponsive, if they're difficult to install, or, in the worst-case scenario, if they don't protect people's health data properly — then consumer appetite for wearable technology could easily dissipate. Expectations for digital experiences may have risen across the board over the last two years. Still, when it comes to personal health, which by its very nature is so sensitive and important to people, these expectations have risen to a whole new level.
Not surprisingly, our research found that 92 per cent of people in the UAE expect companies offering wearable technology and applications to demonstrate a higher standard of protection for their data than any other technology they use. And the consequences for brands that fall short of these customer expectations are severe. Sixty-five per cent of people claim that they would stop using a specific wearable device or application if they had a bad digital experience; and, alarmingly, 54 per cent of people claim that a bad digital experience with one wearable device or application would put them off trying other health or wellbeing wearable technology.
These findings should act as a stark warning to technology and application providers. Unless they can deliver a seamless experience for customers, from the wearable device to the digital health application, they run the risk of customer attrition and, consequently, loss of revenue. And at a broader level, unless the industry as a whole recognises the need to put digital experience at the heart of its future strategy, then there is a danger that people in the UAE and around the world will lose trust in wearable medical technology and all of the potential benefits around population health and wellbeing will be put in jeopardy.
Full-stack observability is critical to drive user experience and seize the opportunity of wearable technology that works in IT can attest to the fact that just as consumer expectations are spiralling to new heights, the task of optimising IT performance and availability is becoming ever more challenging. IT departments are now trying to manage an ever-more fragmented patchwork of legacy and cloud technologies, and the unfortunate reality is that most IT departments simply don't have the tools and insight they need to make informed decisions around technology performance issues.
This is why application providers need real-time visibility into IT performance and availability up and down the IT stack, for compute, storage, network, and the public internet, from the customer-facing application to deep down in the back-end. This enables technologists to quickly and easily identify anomalies, understand dependencies and fix issues before they impact the end-user. Only with genuine full-stack observability do they stand a chance of cutting through data noise and identifying and fixing performance issues before they impact customers.
But as demand for digital health applications continues to soar, this level of visibility still isn't enough. Technologists urgently need to connect full-stack observability with real-time business metrics to pinpoint and prioritise the issues that pose the biggest risk to customer experience and fix these before they impact the end-user. It's easy for technologists to feel overwhelmed and frustrated when looking at 100 performance issues, but if they can immediately know that only a couple of them have the potential to impact customers, then they can focus their efforts in the right places.
This business lens on IT performance makes it far easier for digital health application providers to consistently optimise IT performance and provide the seamless and exceptional digital experience customers in the UAE now demand. And crucially, it will ensure that wearable medical technology can deliver the game-changing impact that is now within touching distance, improving health and wellbeing for people in the UAE and worldwide.
If you liked reading this, you might like our other stories
Is Your CX Program Falling Short? 
Taking Customer Care Personally