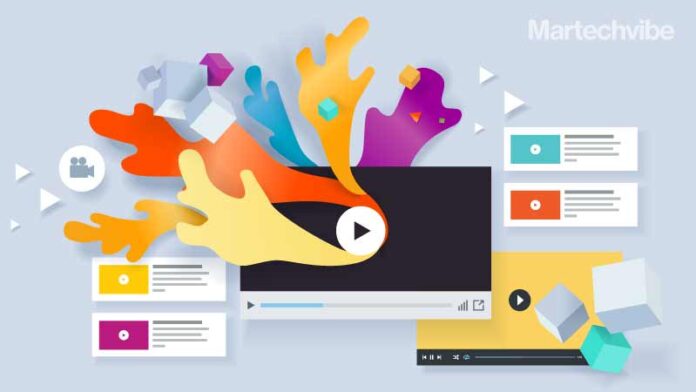 A couple of years ago, the New York Times wrote that we are living in a "post-text" world — consumers prefer to not read walls of text or receive dozens of emails. The defining narrative is the reach and power of video.
No doubt, video marketing is here for a long haul, with online videos making up more than 82 per cent of all consumer internet traffic by 2022, according to Cisco.
"Stories" on Instagram and Facebook changed the way brands deliver messages to their audiences. Video marketing as a medium to get people's attention and get business' messages across a while has been there for a while. And as 2021 continues to unfold, there's more data revealing its continuing growth and relevance. The pandemic has overwhelmingly increased the amount of online videos people watch.
To communicate with target audiences and grow an online customer base, video is a powerful tool. And if used effectively, video marketing can transform the whole message into one of dynamism, helping a brand stand out from the crowd.
At any stage of the marketing, cycle video is compelling as it's measurable and gives insight into your sales and marketing process.
Also Read: Using AI for Video Marketing
A survey indicated that over 50 per cent of consumers are interested in watching videos from brands they support.
Video is memorable, it's engaging, and, of course, preferred for brand and marketing communication. In 2020, 92 per cent of marketers said that video is an important part of their marketing strategy. Over 90 per cent of marketers feel the pandemic has made video more critical for brands.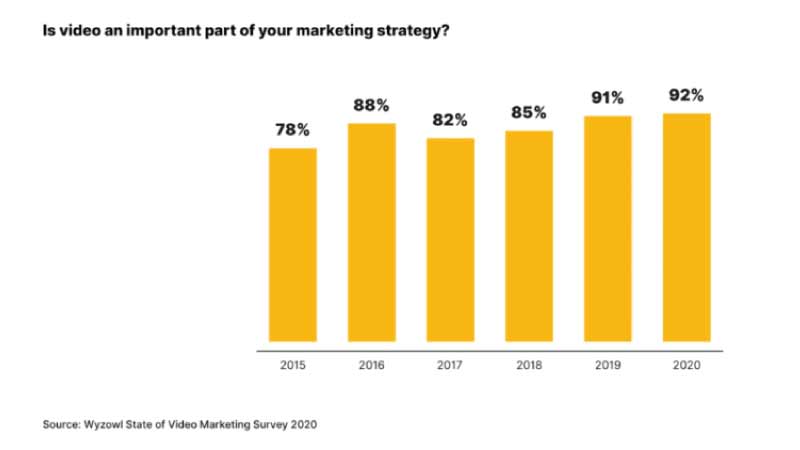 So what is it that makes video so powerful? According to 88 per cent of marketers, video marketing provides them with positive ROI. Considering that only 33 per cent said the same in 2015 shows that consumer sentiment toward videos is much stronger now.
Everywhere you look in the marketing industry today, people are talking up the importance of online video. Indeed, video is seen as increasingly important to digital platform holders, and there are some good reasons it makes sense for marketers, too.
Online video represents a powerful and controllable opportunity to fill the gaps between campaigns. According to a 2019 survey of business owners, 66 per cent rank video as the most effective form of content for their marketing strategy. Serious marketers should be looking to drive meaningful paid scale behind every execution. Realistically brands can't go true media continuity just by posting content and hoping people find it.
Also Read: Do you YouTube?
An online video initiative can drive meaningful reach and business results and scale down to much smaller budgets. When you include the impact of partial/skipped views on YouTube, you start to see the huge potential scale ignored. According to Hubspot, including a video on your landing page can increase your conversion rate by up to 80 per cent.
Video connects with your target audience on an emotional level and builds trust.
When you include videos in your marketing cycle, you will get robust data about how your potential customer interacts with your brand. 
Video reaches places closer to purchase opportunities. Video consumption on mobile phones continues to sky-rocket. People are consuming video content throughout the day in a wide variety of locations, putting them much closer to many potential purchase opportunities. Also, Video is the No. 1 piece of content that engages site visitors — so they are more likely to stay on your site.
Personalisation is the name of the game. The opportunity to reach people with subtly or radically different creatives based on who they are and what they're doing is a must. Targeting allows to tell sequential stories to the same consumer, building a stronger narrative over time or even actively pushing them along a purchase funnel.
And don't forget the future. Viewing habits are beginning to change radically, and marketers would do well to understand how their marketing can too.
Increased conversion rates, superior reach and the ability to personalise are the main selling points of video marketing. But what makes a great video?
The most important part of any video is telling a cohesive and concise story. As Facebook recommends: "Your video ad shouldn't be longer or shorter than it takes to tell your story well, so create a storytelling arc from the first frame to the last that keeps your audience interested along the way." The best video content tells stories that connect with the viewer. Videos that are focused on a brand won't work.
Since attention spans online are short, only a few seconds, a video must bring a brand's story to life, quickly consume and instantly gather interest as people scroll through their feeds.
Uploading a thumbnail to sit alongside your video, which Facebook and YouTube enable you to do so, is a great way to grab viewers' attention and get them excited about your video before it starts playing.
Many viewers prefer watching videos that don't require sound, so marketers should think about how they can create a compelling story without the need for audio. By making videos "volume-agnostic," anyone can watch and understand them, whether they're on a desktop computer or browsing their social feeds on their commute. But, make sure the subject matter can be easily visualised — use subtitles, numerical data, animations, and images to tell the story for you. 
Also Read: 6 Steps to Building a Successful Video Marketing Strategy
Explainer videos also have seen huge success. The majority of people report watching explainer videos to learn more about a product. Even webinars are effective video marketing channels, and video marketers should continue using webinars for their companies.
Videos should show up in searches. And for that, marketers need to use keywords in titles you want to rank highly for and keep it under 66 characters so that the text isn't truncated in search results. It is one of the most critical factors for ranking well on Google and YouTube. YouTube is the world's second-largest search engine, so relevant videos are favoured by Google in their search results.
Also, now more so than ever before, consistently using video across all social media platforms is crucial to your overall marketing activities.
Finally, since over 90 per cent of people trust peer recommendations over company ads, marketers should collaborate with other brands and influencers to increase content reach.
It's no surprise that video has asserted its dominance in marketing strategies.
According to a survey, most marketers feel that video is an excellent investment for lead generation. Over 80 per cent of video marketers say video has been effective for generating leads and has a direct, positive impact on sales.
Over 90 per cent of marketers agree that videos have helped increase user understanding of their product or service,
Over 40 per cent report that video has reduced the number of product support calls their company has received.
Over 75 per cent report that video marketing has improved their company's bottom line.
The growth in popularity of video marketing will continue, so this is one area brands cannot afford to ignore. Start thinking about what you can do in 2021 to integrate videos into your marketing campaign.