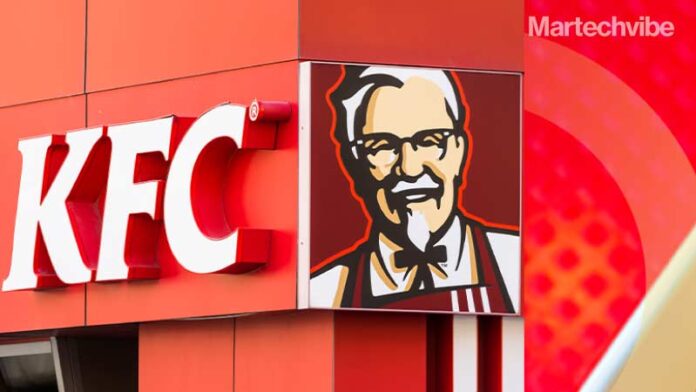 Global restaurant chain brand KFC is rolling out automated kitchens, deploying analytics and digitising customer experience to spice up its future growth perspective.
KFC, the acronym for Kentucky Fried Chicken, is the de facto chicken fast-food restaurant chain worldwide. Headquartered in Louisville, Kentucky, the journey of KFC goes from a backroom in the fuel station to over 26,000 restaurants in more than 150 countries and territories around the world today.
The popular "finger-lickin' good" tagline isn't the only strategy that has helped KFC maintain growth and engage customers since 1952. A big differentiator is the "product quality check," which is also part of the foodchain's global marketing strategy. From the selection of raw materials in factories to nutritional considerations and the last mile delivery to outlets—everything is constantly checked and inspected.
Early this year, KFC outlets across the US came out with plant-based meat, more than two years after collaborating with 'Beyond Meat' to test a plant-based chicken product. KFC's trend of consistently trying new things goes long back in time and differentiates it from competitors.
The "origin"
KFC's founder, Colonel Harland Sanders, first started out by selling fried chicken from a small roadside stand in Kentucky. Sanders maintained the recipe for his popular chicken a secret. Slowly and steadily, KFC began impacting American chicken consumption and the status quo of the hamburger industry.
Soon after getting a hugely positive response, Sanders made the decision to implement the franchisee business model. Since 2002, KFC has operated as a subsidiary of "YUM!", the business that controls Taco Bell, Pizza Hut, and numerous other restaurant chains.
Behind the brand's tech upgradation
KFC very precisely uses demographic segmentation to cater to the target market's vegetarian and non-vegetarian client sections. Moreover, its products suit people of all ages, including children and young adults.
Today, the brand has an aim – making it simple, easy and versatile for people to order chicken, and KFC is making certain innovations to realise it. From fully integrated aggregator delivery to table service, collect service via the front counter or drive-thru, improved loyalty system, direct POS integration, in-store Kiosk integrations, centralised menu service and much more – the brand is leaving no stone unturned. To fulfill its ambitious goal of an enhanced customer experience, the brand chose AWS as its partner to automate its processes.
"As part of the process, we partnered with AWS and followed the route of a serverless infrastructure. Although our stack was originally a fully Terraform implementation, we chose to adopt a hybrid model of Terraform and the Serverless Framework, with our language of choice being Node.JS," said Jamie Hall, Head Of Architecture at KFC, in his post.
"This allowed us to create a much more microservice-based topology, putting the full ecosystem of development within the service teams themselves and allowing us to move towards a continuous delivery lifecycle while keeping it fully automated as part of the infrastructure for code," he added.
KFC has largely employed the push-and-pull marketing method and used advertising as its primary tool to entice customers to buy its food.. The brand uses entertainment, coupons, premiums, and exhibits, among other strategies, to increase sales.
Social Connect
With over 58 million followers on Facebook, KFC's page leverages ads and displays products, offers, and discounts while highlighting its online delivery options. The social media team has a quick response time for customers and encourages them to lodge complaints upon facing dissatisfaction with services at any outlets. An active engagement ensures significant returns on all posts in the form of likes and comments.
Additionally, KFC maintains high interaction with its followers on its Twitter feed with constant contests and relevant content posts. Like Facebook, their Twitter page is product-focused and serves as a forum for users to voice their complaints. KFC has also taken advantage of YouTube Shorts to sell their products and has resultantly racked up millions of views.
Competition and caution
Kokoriko, McDonald's, Kyochan, and other regional and international food businesses are KFC's  fierce rivals. Sometimes, even local fast-food restaurants compete directly with KFC in developing countries.
McDonald's and Subway are two of KFC's principal rivals. They both fall under the umbrella of burgers and sandwiches. McDonald's focuses on hamburgers, whereas Subway focuses on sandwiches. Subway hasn't yet reached the extent of its spread, while McDonald's and KFC are perpetually at odds over the dominance of the world market.
Apart from competition, the brands need to be proactive rather than being reactive in this age of hyper-digitisation. KFC being a big brand hosts millions of customers' data on its platform which is central to their growth.
On the contrary, the same strength might also be a vulnerability. In recent news, it has been revealed that customers of KFC were the subject of phishing attempts in the United Arab Emirates, Saudi Arabia, and Singapore. According to the report, some attackers successfully stole customers' payment information. Security researchers at CloudSEK discovered it first, and the attack was carried out by showing a malicious Chrome browser extension on a domain pretending to be the Google Play Store.
Though the brand remains committed to handling these glitches in advance, it's important for KFC to keep its business intact from all angles. This will eventually give them an extra edge to stay ahead in the race amid this big data era.
If you liked reading this, you might like our other stories
Martech Spotlight: Almarai
Martech Spotlight: Mashreq Bank