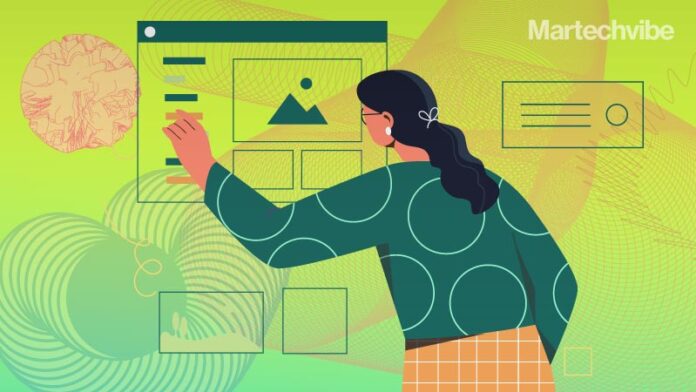 Breadcrumb navigation is a way to show your users where they are and how they got there. It's an essential part of SEO and shouldn't be overlooked
Remember Hansel and Gretel's story of leaving breadcrumbs so they could find their way home if they got lost? Unluckily, birds ate the breadcrumbs. But thankfully, the internet is safe from birds.
Besides inspiring the term "breadcrumb navigation", the story also provides a metaphor for web usage, which designers often overlook.
What are breadcrumbs?
Generally, a breadcrumb is a small piece of text at the top of a page that shows the user where they are on the site. On Alibaba.com, for instance, the path to their Earphones & Headphones is Home>All Industries>Consumer Electronics>Earphone & Headphone & Accessories>Earphones & Headphones. This breadcrumb trail will show you exactly where you are. Every step of the journey, all the way back to the homepage, is clickable.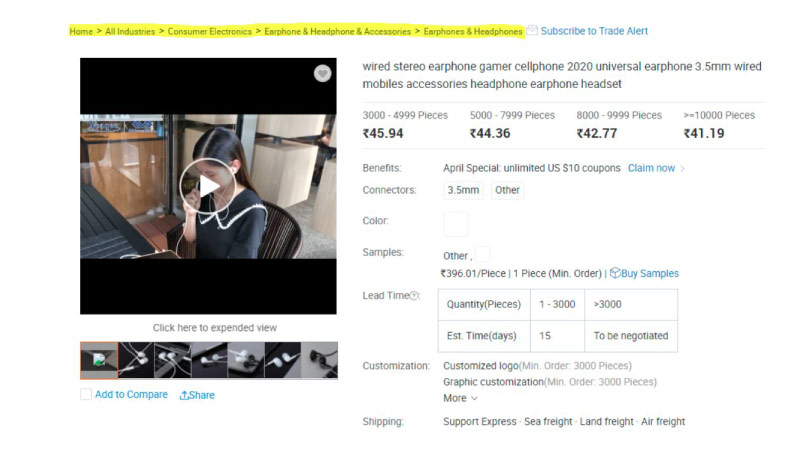 Similar to Hansel and Gretel, if a user gets lost, they have clickable links that take them back to where they were, to the homepage.
Why does it matter for SEO?
You may not know, but breadcrumbs also appear in the Google search results. This gives users an easy to understand preview of where the page sits on your website. This feature will make your site's navigation easier for users, and Google likes them too.

Since Google changed from showing the full URL in the search snippets to breadcrumbs instead, SEO is now more important as this is displayed directly in the search results.
Types of website breadcrumbs?
There are three most familiar breadcrumbs:
Hierarchy-based breadcrumbs
This is the one you see the most. This type tells you where you are in the site structure and how many steps to get back to the home page. For example, Home > Blog > Category > Post name. Similar to the Alibaba.com example mentioned above.
Attribute-based breadcrumbs
You'll see this type of breadcrumb on the eCommerce websites to show what attributes the user has clicked. For example, Home>WomenAccessories> Women's Watches. It also means if you search within a website directly for the thing you are after. In this case, it was women's watches. By looking at the parent categories, you can find similar items.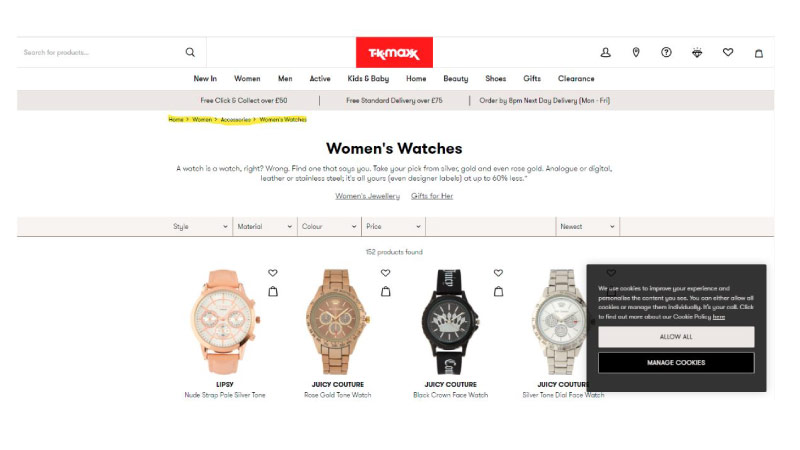 History-based breadcrumbs
Similar to a user's browsing history, this type shows the user what other pages on the site they've visited. For example, Home > Previous page > Previous page > Previous page > Current page. It does exactly what it says on the tin; they are sorted based on your activity on the site.
Benefits of breadcrumbs
As mentioned above, Google loves breadcrumbs. They provide Google with yet another method of determining how your website is structured. They may also be included in the search results, making your result appealing to consumers. You should use structured data to maximise the odds of your breadcrumbs displaying on Google.
Just as significantly, breadcrumbs also enhance the user experience. No one likes feeling lost. Provide an uneasy way for your users to navigate your site.
It can also lower your bounce rate, which is one of the benefits. Users rarely enter the site from the home page. They are more likely to enter your website through your blogs or pieces of content. By having breadcrumbs in place, you offer visitors an alternative way to browse your site.
How to implement breadcrumbs?
Several WordPress plugins, such as Yoast SEO and Contact Form 7, can quickly implement it in just a few steps if your website is that way inclined. The approach will be different if you use a different CMS. It's also feasible to manually add them to your code. You must utilise structured data so that Google understands if you want them to show in Google results.
If you liked reading this, you might like our other stories
Can Interactive Content Get You First Party Data?
Top Martech and SEO Challenges that CMOs will face in 2021