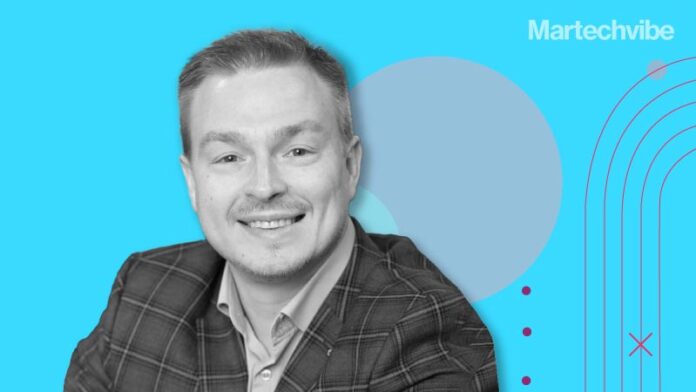 Leo Dovbenko, CEO and Co-Founder at Yalla!Market shares the critical elements of CX and how Yalla!Market is achieving doorstep delivery of products all across UAE in 15 minutes flat.
Leo Dovbenko has 15 years of experience in food tech, retail and HoReCa (hotel, restaurant, café) He has led 15 successful projects alongside three successful start-ups in the UAE.
How do you personalise CX in the quick commerce industry?
Personalisation is critical to the q-commerce customer experience because it drives engagement. This personal touch was once limited to in-store traditional retail. Using personalisation tools, we offer customers tailored discounts, native advertising and personalised offerings. As a result, it increases order frequency, LTV and average check. Some common personalisation tactics for better CX are displaying previously viewed items, offering personalised product recommendations, notifying customers about abandoned carts, and offering them discounts. We also use re-targeting campaigns for the audience who installed the app but didn't order. In the B2B channel, we work with product interfaces, giving brand visibility to enhance better customer conversion while in partners' channels, we launch cashback and discounts for bank card holders.
How is the CX journey defined in your organisation?
It all comes down to the omnichannel system when we test both online and offline channels. We have a presence in every Dubai food delivery app: InstaShop, NowNow, Talabat, and Deliveroo. We are active in offline and affiliate marketing. We conduct brand campaigns on YouTube, Facebook, Instagram, Tik Tok. We also have influencer marketing and email marketing channels.
What is the role of technology in improving your CX?
The core of our company's CX strategy is based on data. We constantly analyse consumers' behaviour and preferences with artificial intelligence (AI) and machine learning (ML) tools and seek new ways to meet consumer needs.
Below are vital aspects:
Precise consumption data management – We get the most accurate data on people's consumption with their binding to personal contacts, geolocation, habits, and segmentation by income and family status. We can provide the most accurate sales forecasts and recommendations based on this data.
IT approach with human presence – We ensure premium service by automating the order mechanics and processes. We reduce the number of contacts with the consumer, polish UX scenarios, and implement strict IT control of the scenarios of each line employee. We use machine predictions of possible failures in scenarios and recommendations for actions. We base the emotional quality management of the service on a mathematical model and metrics.
Machine learning prediction – We use machine learning to predict individual users' habits and consumption patterns. We offer subscriptions to the assortment of goods, predict and help fill the basket based on past experiences and knowledge of what products have expired in the user's refrigerator, etc.
Online profitability management – Our profitability is managed online based on IT at the level of every dark store and every order. We can set dynamic pricing, delivery fee and delivery terms depending on demand, time of the day and year, dark store workload, stocks of the goods and their freshness, etc.
Are you taking a new CX approach for GenZ?
When it comes to understanding consumers, we're always learning. We know that in a few years, Generation Z will be the biggest customer base with high purchasing power and enormous potential. By thoroughly analysing Gen-Z's expectations, needs and consumer habits, we find the appropriate strategy to deliver a good customer experience.
Raised in a digital era, this generation prefers digital experiences on all popular platforms. For Gen-Z, omnichannel and highly personalised customer experiences are a must-have. For instance, in August 2022, we re-launched several key online channels (Google Ads, TikTok, and App Store search ads) and launched new channels (CPA Bloggers). We've got a vital experience and concluded that influence marketing with bloggers shows us good results, and we're going to scale this channel.
What is the biggest challenge brands face when delivering omnichannel service?
Combining media products like app push, email, web push, Facebook re-targeting, WhatsApp, and SMS for an omnichannel approach is complicated but critical for successful CX. When the communication between the company and the customer is well thought out and fine-tuned, the customer is comfortable making purchases or using services. Omnichannel marketing helps increase consumer trust and build a long-term relationship with them, increasing lifetime customer value (LTV). Regardless of where a customer reaches out, marketing, sales and support should be accessible on all channels.
A common challenge in the omnichannel strategy is fragmented data. Since omnichannel marketing integrates offline and online channels, the data can be dispersed and fragmented. One of the most challenging tasks is incorporating the data into a single platform.
How can brands deal with negative CX?
It is important to be proactive in understanding what customers say about your brand, and use the insights to guide your customer experience. In case of a problem, when the user contacts customer care service, it is crucial to understand what the individual issue is. If it is the service's fault, don't be stingy with apologies. Explain the problem to the customer, tell him how it will be solved and give a deadline.
Show the user that you care — not just by giving him a promo code but also by showing that you have solved the problem for him. This approach makes people love the service, and consider its benefits despite its shortcomings.
One more word of advice, try to keep your conversations with the customers out of the public eye. If someone is complaining on Facebook or Twitter, discuss it with them via direct message.
Do you see your organisation adapting to the metaverse?
For now, we do not adapt to metaverse ideas. It's hard to imagine that most people would like to spend all day in front of a screen, going shopping virtually, travelling or spending virtual money. Our focus is on solving real-life problems. Our vision is to build a future where every UAE citizen can get anything he wants in under 15 mins.
What are the challenges in CX for the quick commerce industry?
Building long-term customer relationships in a highly competitive environment with a short attention span.
What can delegates expect from your presentation at CX NXT?
Quick Commerce trends in the Middle East, and how everything in the GCC will be delivered in 15 minutes.
Dovbenko will be participating in a panel discussion on Quick Commerce: Future or Fad at the CX NXT – Customer Experience Summit. The topic for the panel discussion is Quick Commerce: Future or Fad and will take place on 17 November at Dubai, Marina.
If you liked reading this, you might like our other stories
Data Virtualisation: The Key To Optimal CX
The Inextricable Link Between EX And CX