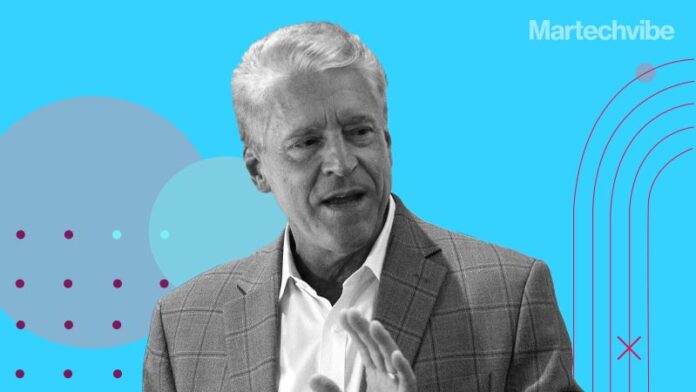 By 2025, more than 25% of Americans are expected to watch live sports digitally. While broadcast and cable networks have dominated the sports viewership market, there will soon be a new age.
In an interview with Martechvibe, Rick Allen, CEO of ViewLift, spoke about the industry's areas of disruption and growth, including the broadcasting and cable influence, private-equity deals, new revenue streams for content owners, and the impact on the fan experience.
Allen has over 30 years of experience in the sports, digital and media industry, having led some of the biggest media companies, including leadership roles at Sporting News and National Geographic Ventures, with responsibility for ten business units, including TV/Film and Digital; and as an SVP at Discovery. He also served in the White House as Deputy Assistant to President Bill Clinton. In 2008, along with tech pioneer and sports team owner Ted Leonsis, Allen created ViewLift.
Excerpts from the interview;
Tell us about your journey from traditional media to the digital world.
I have always been involved with digital media, even when running traditional media companies. At Discovery Communications, I was involved in restructuring their digital group and worked on new asset acquisitions. When I was CEO of National Geographic Ventures, digital was a huge part of the ten operating groups that reported to me – very vital in our strategy for what became the National Geographic Channel. All of that was reported to me and then ViewLift, which began 14 years ago as SnagFilms, was a digital forward company from the beginning. So even throughout that kind of traditional company experience, we always had a very, very strong digital presence, and with ViewLift, it's exclusively focused on digital.
The era of broadcast and cable dominance of sports distribution is ending. What's the new normal?
The new normal is kind of all of the above. For content owners, the desire and necessity are to distribute wherever your audience is, which means traditional linear distribution when you can get it, and in those markets where you can't get it, but can go digital and over the top, take that route. This can even occur in the same markets.
Let's say you are a sports league, you have linear carriage from only a portion of your games. Digital and an OTT space might be the only way you can offer a full package of your games and maybe in certain markets, you do not have the opportunity to get a linear carriage. So I think distribution mechanisms have to be extremely, extremely broad.
How has the sports fan experience changed?
There are six big changes.
The first is the growth in new sports and new leagues. Even in a traditional sport, like American football, you see the development of new leagues, and then there are a whole series of new leagues developed around new sports. So I think from the fans' perspective, more choices and more opportunities to engage.
Two, the pandemic had an enormous impact on the sports world. For nearly two years, they couldn't watch in person most of their favourite sports experiences because it was unsafe from a health perspective. So this season was a tremendous opportunity for sports fans to be able to attend live games. In crowds again and for those watching at home, there's just a better experience. If you're watching a game being played in front of live fans, I think players, too greatly prefer that kind of experience.
Three, tremendous growth in over-the-top (OTT) has kicked off a real explosion in terms of options for where sports fans can watch their favourite sports.
Fourth, social media changed the nature of how highlights are produced and distributed. You didn't see fan highlights at major sports league games four years ago. The technology wasn't quite there yet. Leagues were cautious about allowing folks to use their intellectual property and putting it out without league control. So I think that's changed. Where it is now, the expectation is that individual fans will post their own highlights from their seats in the stadium based on what they want to share socially.
The last, NFTs have had a major impact on sports fans' experience. And that is particularly true where the NFT combines digital and virtual offerings, say a highlight, which is protected by the blockchain and therefore is a limited edition as the virtual or digital elements of an NFT. But you see from Monumental Sports and Entertainment, for example, here in Washington DC where I am (and from other teams), they combine those sorts of digital offerings in an NFT, which also could include merchandise, say, a special edition of a team jersey. Maybe it'll include tickets to actual games and other real-life rather than metaverse elements in an NFT. I think that packaging and the whole notion of expanding the fan experience have been a big change over the last couple of years.
What are the opportunities for marketers in the OTT industry?
Definitionally, Over The Top describes a delivery mechanism. Cable is a delivery mechanism: you deliver content over cable. Similarly, content could be delivered via satellite. Over The Top means it's internet protocol streamed content delivered to devices which are set up to receive it. The direct-to-consumer part of OTT is the most interesting part. A content owner doesn't go through a cable operator or another intermediary to stream its content but goes directly to the sports fan or the consumer. I think most folks, when they think of OTT streaming services, think of Netflix and Netflix, of course, it goes directly to consumers.
So if you focus on that, I think it's clearest. Now, think about how and why marketers are essential to the direct-to-consumer piece. Here, the business depends on the efficacy of customer acquisition; where are you getting your subscribers or viewers – that's a marketing question. Also, monetisation, what are the tools? How do you get your content in front of the biggest audience? What's the relevant data to evaluate? You need to be able to evaluate which acquisition channel is the most productive for you. That makes the job for marketers tougher, but it's also more rewarding because they're now in the OTT space with the data available to owners through that distribution mechanism. They're able to track everything in close to real-time about customer acquisition. That opens up an enormous set of opportunities for marketers who engage in the OTT industry.
How do you see the role of the creator economy going ahead?
I think the premise of the web at the very beginning was in part, that it would provide a kind of democratisation of content that more people would be able to create and more people would be able to consume. Those creators can go directly to their fans and to consumers. That the whole process is just continuing to accelerate. I would've said that the creator economy was a little disconnected from the big types of OTT content, sports and entertainment because those enterprises are huge. You can have the creator economy, but no individual creator is going to be able to create the NFL or the Premier League.
In sports and entertainment, the creator economy has real impact even from very small-scale creators. It has really impacted the experience of the fan and the rights of the big leagues. We talked about highlights on social media. I think that even big businesses have been spawned from the kind of a creator economy perspective. Kylie Jenner created this enormous cosmetics and beauty business, which Coty bought for hundreds of millions of dollars. There was a story in our local paper in the Washington Post that the great director Francis Ford Coppola had something called Decentralised Pictures, which is trying to democratise the film financing process by tying it to blockchain and cryptocurrencies.
I went to the Kennedy Center to see a one-night show. Kennedy Center is one of the greatest venues in America. Hardest to get a chance to play at the Kennedy Center. It was a one-night musical theatre spawned out of the very popular Bridgerton television series. It started in essence as fan fiction, two extraordinary young women started to write songs based on the inspiration of the Bridgerton series. They put it up on TikTok and YouTube initially. Later on, it became so much of a phenomenon that they wrote a full album of songs for a musical that won the Grammy, which is just mind-blowing and put it on backed by the National Symphony Orchestra. That whole concept just didn't exist a few years ago.
Even in those industries that favour concentration and huge business sizes like entertainment or like sports, there are all of these inroads where individual creators are wedging their way into the process. I think that's tremendously exciting.
What are the industry challenges you are currently dealing with, and how?
We are on the cutting edge. By definition, technology is changing every second all around us. I think consumer expectations are also constantly ramping up. If a consumer gets an experience that may have cost Netflix billions of dollars to develop, that in their mind becomes the example of a high-quality premium experience. And they expect it everywhere, so people will say if Netflix can do this, why is my son's school website so inadequate? Comparing those two things is unfair, but that's how consumers think about it. So that's an industry challenge.
I think legal frameworks are changing all the time. And this is particularly true in privacy rules and regulations. The whole industry will turn upside down if privacy laws prohibit cookies, which is the way that much of the free-to-view experiences make economic sense, because of the advertisers' ability to track viewer behaviour through cookies.
That's going to disappear over time because of privacy rules and regulations. That means advertisers shift to make their position make sense, a huge industry change. By definition, over-the-top means you must deliver on a whole panoply of devices. You have a whole number of mobile device manufacturers, iOS and Android being the biggest. You have a series of other providers like Roku – who have grown up in the OTT age. You have game consoles and all of these different device platforms.
For a content owner and its technology partner, like a ViewLift, you must provide that content across all those major devices. Now, those devices don't have common standards. Those devices change the rules all the time, often without much notice. And so, it is a tremendous industry challenge to track all of that and provide a great experience to consumers whenever they want to watch something and on whatever device they wish to watch it and then provide the data that comes out of that engagement back to the content owner. That's a huge part of what we at ViewLift do. And it's very hard.
Do you think there is a saturation point with subscription services? How do brands continue to engage with fans?
I do not think there is a fixed number of subscriptions for any individual household. Like any other choice and expense, if it's very worthwhile to you, you will spend it. And we have seen in terms of the number of subscriptions per household on average, it ticks up every single year.
So we certainly haven't reached the saturation point yet. I don't think it is an arithmetic thing. You have to prove value. Then in a time when personal finances are stretched more than ever, and we're facing that all over the world, you have to step up to make that value equation work. You have to show folks that it's worth it to pay you for that subscription.
The key to all of this is engagement, making it worthwhile for the subscriber to continue to engage and give value to their subscription. That engagement turns on personalisation. When I am coming to consume your content on the device of my choice, are you giving me as close to exactly what I had in mind as you can? And that personalisation comes from data from the behaviour of viewers like me. Data is the key to really all of the value propositions for any streaming business, whether it's ad-supported, subscription-based pay-per-view, or any hybrid, of business models.
One piece of advice for our readers.
Many of us understand that our business is only as good as the experience we provide for our partners, for our consumers and for our colleagues. If we are kind to every part of that ecosystem, if we serve them well, then we will deserve to be successful.
If you liked reading this, you might like our other stories
Top Loyalty Experts In the Kingdom of Saudi Arabia  
Consumers Are Not Ready To Pay More For Sustainable Products