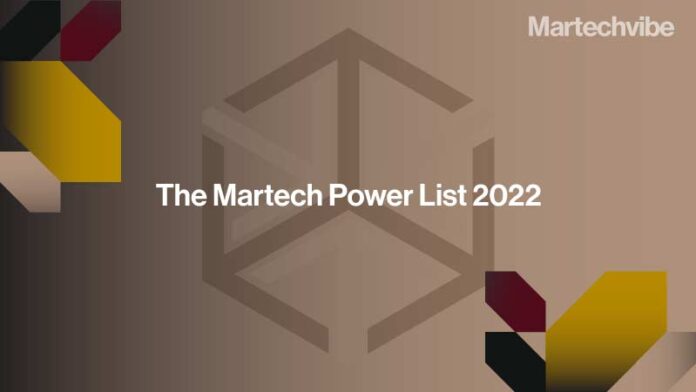 The Martech Power List will reveal leading enterprises using martech to further growth strategies tomorrow at an exclusive gala event with performances by UAE's King of Comedy Ali Al Sayed and DJ Martin Avari.
The Martech Power List award ceremony will be held on 15 December at Palazzo Versace in Dubai. Over 100 marketing leaders, strategists and experts will attend.
The invitation-only event will celebrate enterprises leading the charge via retention and loyalty strategies driven by data and powered by technology. Led by the Martechvibe editorial team, and a panel of experts, winners were selected based on the innovative use of technology and proven results. WebEngage is a presenting sponsor for the Retention category, and Epsilon is the presenting sponsor for the Loyalty category.
Martechvibe, a leading emerging tech media publication has produced the Martech Power List 2022.
The event will commence with the opening remarks by Sanjay Swamy, the co-founder and Director of Martechvibe, the leading emerging tech media publication.
The entertainment quotient will be upped by stand-up comedy shows by none other than Ali Al Sayed, UAE's King of Comedy, who has blazed a pioneering path as an Emirati stand-up comic for 15 years.
Ashish Sinha, Managing Director – Epsilon APAC & MEA, Epsilon and Paul Wallis – Director of Growth, Epsilon and Saira Mehdi – Sales Director, Epsilon, will facilitate the winning brands, which have made it to the Martech Power List for Loyalty. This award acknowledges enterprises that leverage technology to serve customers' intelligent loyalty programmes that go beyond transactional benefits.
Hetarth Patel, VP – MENA & Managing Director – UAE at WebEngage will present the awards to winners in the Retention category. The Retention enterprise list celebrates the teams that work together seamlessly to understand customers through data, manage relationships in real-time using technology solutions and build deeper relationships with the customer's best interests at the centre.
These awards are an editorially-driven initiative to appreciate leaders and brands in the region.