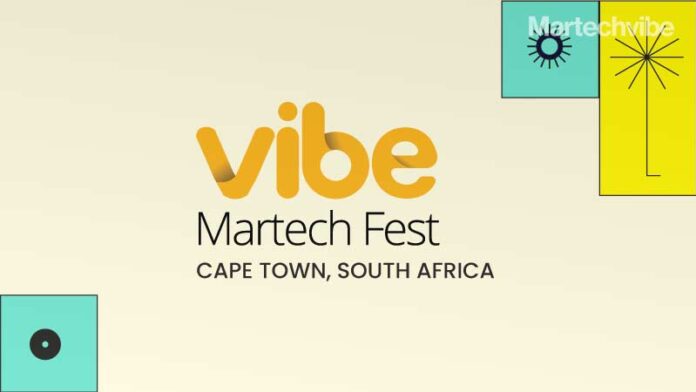 Global marketing and technology experts will take the stage at Vibe Martech Fest to speak about how to best adopt technology solutions to deliver customer-centric strategies in the emerging digital economy
Vibe Martech Fest – the region's biggest marketing and technology summit will take place on July 26 – 27, 2023, in Cape Town, South Africa. 
This is a critical moment for brands in South Africa, owing to the rapidly increasing internet penetration and growing customer expectations. Marketing teams are working towards prioritising data-driven strategies that focus on delivering personalisation, attribution and omnichannel. To compete with global players, brands are leveraging marketing technologies that can help find insights, target the right customer at the right time and in the right channel, measure success and offer more value. 
Digital transformation is the base for future growth in South Africa. Internet penetration stands at 68% and the use of social media has seen a 12% increase in the years 2020-2021. According to recent research, digital technologies can generate more than R5 trillion in value for industry, consumers and society in South Africa.
Vibe Martech Fest brings together global industry experts and marketing leaders from leading brands regionally to add context on the martech conversation. They will discuss how to align technology investments with people and processes, plan for changing market trends and deploy winning strategies at scale.   
Past speakers at Vibe Martech Fest include Scott Brinker, Sir Martin Sorrell, Brian Solis, Neil Patel, Steven Van Belleghem, Darell Alfonso, Fernando Machado, David Raab, Rob Bloom, and Steve Lok.  
Key sessions at the Vibe Martech Fest's South Africa edition include; 
A Single Platform to Personalise Cross-Channel Customer Experience

Leading the Way with Human-Centred CX Innovation 

Creating Connected, Hyperpersonalised Moments

Micro-Moments: Delivering Experiences That Matter

Customers at the Core: Giving Direction To People, Processes, And Technology
The line-up of speakers will include David Raab, Founder at the CDP Institute, Ebrahim Goga, VP of Digital Commerce, Africa at The Coca-Cola Company, Joana Tene, Global MarTech Lead at Whirlpool, Lida Sinclair, Chief Marketing Technologist at Discovery Limited, Audrey Naidoo, Head of Digital Marketing at Absa, Mariska Oosthuizen, Chief Marketing Officer at Sanlam, and many more. 
More than 150 marketing and technology leaders are touted to attend. The summit will discuss current challenges, how to get maximum potential from technology solutions, aligning tech and teams to reach business goals and what emerging technologies could be the next disruptor.  
For more information and registration, visit Vibe Martech Fest – South Africa
Vibe Martech Fest has previously been sponsored by Sprinklr, Salesforce, Epsilon, Microsoft, MoEngage, WebEngage, Zoho, AppsFlyer and many others. SAP is a silver sponsor for Vibe Martech Fest, South Africa.