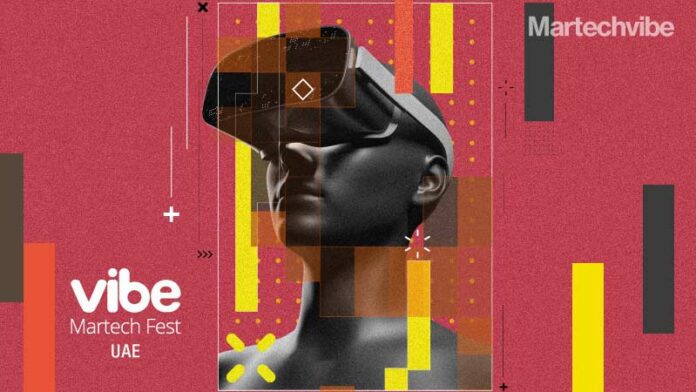 Vibe MarTech Fest (VMF) is back for its fourth in-person edition on September 6 – 7, 2022.
VMF was launched with the vision to advance the adoption of Martech by educating, enlightening and inspiring the CMOs in the Middle East. Last year, the conference expanded to South Africa and Saudi Arabia. The conference has gained ground as the undisputed resource on MarTech, attracting over 400 delegates and an online audience of millions.
Speakers for this edition include Benazir Poonawala, Senior Vice President, Head of Marketing & Customer Experience – Mashreq Bank, Oleg Nesterenko, Chief Growth Officer – STARZPLAY Arabia, Achilles Manolopoulos, Head Of Customer Experience – Zand, Priyam Chaturvedi, Head – Brand Partnerships and Marketing Operations – Namshi, Peter Riz, CIO – OSN, Umesh Moochandani, CIO – Bin Dasmal Group, Anand Venkatasamy, VP/Customer Base Management – e& (Etisalat Group), Vuk Vuckovic, Head of  CRM & MarTech – Careem, Vicky Elliot, Senior Director Insights, CRM & Loyalty – Jumeirah Group, Jonathan Flender, Acting Managing Director Digital – Al Futtaim, Darrell Alfonso, Global Marketing Operations – AWS, Lianne Braganza-D'Sylva, Chief Marketing Officer – Cigna Insurance Middle East & Africa, Joana Tene, Global MarTech Lead – Whirlpool Corporation, Netherlands, and many more.
The conference brings back its title awards – Vibe Martech Awards which celebrates the extraordinary achievements of Middle East brands and professionals, VMA was instituted as an annual recognition of the innovative companies that push martech boundaries.
The keynote asks the question on every marketer's mind – are you getting the most from your stack? Catch experts discussing customer intent and how to navigate this data point to influence decisions, and explore the new world order post-pandemic and how customer behaviour models are pivoting to accommodate changing customer habits.
Sprinklr is the Presenting Sponsor for the summit. Salesforce is Strategic Sponsor. Tealium, Branch, Netcore, ObservePoint, Sitecore & HCL Unica come onboard as Gold Sponsors. AppsFlyer, Braze, Verint, SAS & WebEngage are Silver Sponsors. Networking Sponsor is Optimizely.
Zoho is the Associate Sponsor, Cvent joins as Event Technology Sponsor and American Eagle, Pixis, LS Digital, Epsilon, ReBid & MoEngage join as Exhibitors. Bloomreach joins as Visiting Partner.
For more information, visit vibemartechfest.com