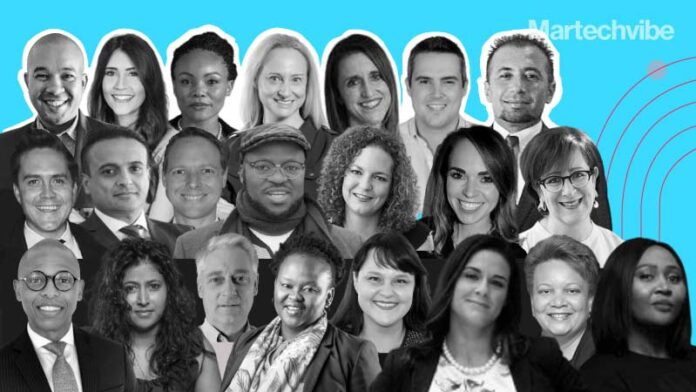 As a run-up to Vibe Martech Fest's South Africa edition, we put a spotlight on innovative marketing leaders who are transforming and redefining their role, business and the marketing industry in South Africa.
Alan Buck
Chief Marketing Officer at L'Oréal
Alan Buck discovered his passion for marketing during business administration studies. Before joining L'Oréal, Buck worked with brands like African Extension, Distell and Reckitt Benckiser. His expertise is in marketing, media management, digital strategy, mobile marketing, brand communication, strategy planning and integrated marketing strategies. Along with a Bachelor of Business Administration, he has certifications in Marketing from the General Assembly.
Ahmed Kajee
Group Head of Digital and Social Media at Nedbank
Ahmed Kajee is a digital professional with in-depth knowledge and experience across the digital value chain. Before joining Nedbank as the Group Head of Digital and Social Media, Kajee has worked with Funhouse Amusements, Autopage Cellular Retail Outlets and Mobile Monday SA. He is a certified chartered marketer from The Marketing Association of South Africa. He is a postgraduate in Knowledge and Information Systems Management (KISM) with the grade cum laude from Stellenbosch University. He has done an executive MBA as well as a master of management in Digital Business. 
Alison Badenhorst
Chief Marketing Officer at Rand Merchant Bank
Alison Badenhorst joined RMB in 2017 after spending 13 years at Standard Bank, as Head of Corporate and Investment Banking Marketing and Communications.  Earlier, she was at Absa Capital, where her focus was on building the brand. Her passion is growing and building highly effective teams by imparting knowledge and unlocking individual and team potential. She believes in the power of collaboration and using collective strengths for shared success. 
Barbara-Jeanne Slazus
Head of Marketing, PEP
Barbara-Jeanne Slazus is an experienced strategic marketer in financial services, telecoms, FinTech and retail. She has expertise in marketing management, digital strategy, brand building, market research and customer insight generation. She has completed a part-time MBA (cum laude) at the University of Cape Town's Graduate School of Business. 
Prior to joining PEP, she has worked with brands like Capfin, Ogilvy and Yellowwood. She holds a degree in BA Value and Policy Studies from Stellenbosch University.
Becky Opdyke
Chief Marketing Officer at Tiger Brands
Becky Opdyke leads the group marketing, R&D and corporate strategy organisations. Underpinning the portfolio of iconic South African brands, she is responsible for Tiger Brands' core purpose of nourishing and nurturing more lives every day. Opdyke is a committed and versatile leader with 20 years of broad marketing experience in growth-oriented international businesses. She has held senior brand leadership roles regionally and globally with ABInBev/South African Breweries and General Mills. She holds an MBA degree from Harvard Business School. Opdyke will be speaking at VMF South Africa.
Bernard Pieters
Head of Marketing at The Coca-Cola Company
Bernard Pieters is an accomplished and results-driven executive with extensive international experience leading strategic marketing operations. He is known for bold ideas and strategies, marketing innovation, branded creativity, developing and positioning notable brands and building businesses in a broad range of consumer industries. He can lead cross-functional and cross-cultural teams such as brand, research and insights, creative and content, assets and consumer interaction centre by exhibiting a variety of skill sets and capabilities. Before joining the Coca-Cola Company for Africa, Pieters worked with MTN South Africa and Octagon.   
Bronwyn Pretorius
Head of Marketing at Mukuru
Bronwyn Pretorius is a marketing professional with 10 years of experience in financial services. Having spent the first decade of her career at the largest retailer in Africa, Shoprite Holdings, she went on to hold senior positions across various brands within the group, including Usave, LiquorShop, MediRite, Computicket, as well as the Brand Head for the Financial Services portfolio. In 2013 Pretorius was handpicked to lead the turnaround marketing strategy for the complementary brands, which resulted in new revenue generation with the introduction of new campaigns. As the Executive Head of Marketing for Mukuru, Pretorius has conceptualised and launched many marketing firsts for the group that have been positively received by more than 8 million customers and partners across Africa. Pretorius will be speaking at VMF South Africa.
Doug Place
Chief Marketing Officer at Nando's
Doug Place is responsible for leading a team that implements the marketing strategies for Nando's restaurants in more than 13 countries across Africa, the Middle East, India and Pakistan. He has received more than 30 international and national marketing and advertising awards and loves to share his thoughts and lessons with anyone excited about the future of marketing in South Africa. Prior to joining Nando's, he has worked with Ster Kinekor Theatres, Snackworks, Cadbury South Africa and Capital One. He holds a degree in bachelor of commerce (BCom) from the University of the Witwatersrand.   
Daniele Joubert
Eater Growth Lead at Uber Eats RSA
Daniele Joubert focuses on user acquisition, engagement and retention. She also looks after partnerships and product solutions such as Uber Pass and Eats Pass for the Eats business, monthly plans that unlock savings across Uber Rides and Uber Eats. Joubert has been with Uber since October 2020 and previously worked in Digital Innovation before joining the Client Experience team at Capitec Bank.
Growing up in South Africa, she developed a passion for exponential organisations and disruptive technology. She completed an Industrial Engineering degree from Stellenbosch University. Joubert will be speaking at VMF South Africa.
Dudu Mokholo
Chief Marketing Officer at Samsung Africa
Having already excelled in her previous position as Chief Marketing Officer for Central Africa, Dudu Mokholo is now the Chief Marketing Officer for Samsung Africa, leading all the marketing teams throughout the continent. She is a seasoned marketer with over 20 years of experience in classical marketing and an MBA from WITS Business school. Mokholo's experience has been gained across retail and various FMCG categories within South Africa, as well as in Nigeria. She is known for her commitment to talent management, diversity and inclusion. 
Before joining Samsung, Mokholo has worked with brands like Tiger Brands, South African Breweries, Colgate Palmolive and Reckitt Benckiser.
Elizma Nolte
Regional Marketing Manager at Facebook-Africa
Elizma Nolte is passionate about media, technology and Africa – and finding ways to connect the three for positive change. Before being part of the founding team of Facebook Africa, she built the marketing team for Google in South Africa. Prior to that, worked in London as a media entrepreneur, journalist and publisher. She holds a bachelor in computer science and BA Honours journalism from Stellenbosch University and an MBA from INSEAD. Nolte will be speaking at VMF South Africa.
Faye Mfikwe
Chief Marketing Officer at FNB South Africa
Faye Mfikwe comes with a strong marketing ethic. Under her leadership, FNB retained its position as Africa's Most Valuable Bank Brand for the second year in a row in the 2021 Global 500 Banking report. To Mfikwe, in financial services, it is imperative to demonstrate an appreciation of mutual responsibility in areas like helping to revive the economy, supporting small business and entrepreneurship and enabling customers to reach their dreams, irrespective of the prevailing challenges. She has studied at Nelson Mandela Metropolitan University. Prior to joining FNB South Africa, she has provided her marketing skills to brands like Liberty Holdings, Nando's and Philips.
Firoze Bhorat
Chief Marketing Officer at Discovery ltd
Firoze Bhorat is highly skilled in marketing management, marketing strategy and business planning. Before joining Discovery, he has worked with the brands like FNB South Africa, Standard Bank South Africa, Vodafone, Coca-Cola South Africa and Vodacom. He has completed his MBA from Gordon Institute of Business Science, and bachelor of commerce (BCom) from the University of Western Cape.
Gugu Mthembu
Chief Marketing Officer at Telkom
Gugu Muthembu is an award-winning marketing professional experienced in building teams and brands. She has led marketing teams for the last ten years, predominantly in telecommunications. 
Before joining Telkom, she was the Marketing Director for Virgin Mobile SA and CMO for MTN Swaziland. She is passionate about creating and providing opportunities for developing talent after being recognised by the Human Capital Institute as a finalist in the inaugural Rising Star Awards in 2012.
Heidi Brauer
Chief Marketing Officer at Hollard Insurance
Heidi Brauer is a pioneering advisor who likes to analyse, create and consult. She is a leader, a mentor, a nurturer who understands the world of marketing and customers and is wholly committed to making sure that customers get unforgettable experiences. Before joining Hollard Insurance, she has provided consultancy services to the brands like Modern Marketing Association South Africa, Naked, Halo Advertising and Comair Limited. She holds a degree in bachelor of science (BSc) from the University of the Witwatersrand. Brauer will be speaking at VMF South Africa.
Jean Dimitri van Dyk
Africa Digital Media Manager at Unilever
Jean – Dimitri van Dyk is responsible for the digital media strategy and operational excellence across Sub Saharan Africa at Unilever. Before joining Unilever, van Dyk has over 15 years of experience across the Middle East and Africa region, leading teams in multiple industries, from media and entertainment with MultiChoice Group and ViacomCBS, telecommunications with MTN Group and consumer goods brands at SABMiller and Johnson & Johnson. He is a creative and data-driven marketer with an interest in using data to develop customer experiences better. Van Dyk will be speaking at VMF South Africa.
Jarryd McDonald
Chief Marketing Officer at Smith Power Equipment
Jarryd McDonald is a creative marketing specialist, intelligent, collaborative team player, with the capacity to engage stakeholders with superior analytical, communication and interpersonal skills, and the development of enduring client relationships based on mutual respect and trust. He has a commercially astute and innovative personality with experience in marketing, creative, design and sales industries. Prior to joining Smith Power Equipment, McDonald has worked with Mabala Noise Entertainment, Sealy and Unimac Distributors.
Julie Anne Walsh
Chief Marketing Officer at Takealot
Julie Anne Walsh is an experienced marketer leading one of the fastest-growing, most innovative eCommerce retailers in the African continent. She has a strong background in the retail industry. With an MBA from Stellenbosch University, Walsh is highly skilled in digital strategy, search engine optimisation, sales and marketing, management, and direct marketing. Before joining Takealot, Walsh has served many brands like ROI Digital, MWEB, Tiscali and World Online. 
Khaya Dlanga
Chief Marketing Officer at Rain
Khaya Dlanga is an experienced marketing communications and marketing manager with a demonstrated history of working in the food and beverages industry. He has strong marketing professional skills in digital strategy, event management, radio, and media relations.
Before joining Rain, Dlanga has served brands like the Heineken Company, Coca-Cola South Africa and the Metropolitan Republic.
Linda Magapatona-Sangaret
Chief Marketing Officer at Brand South Africa
Linda Magarpatona-Sangaret is an MBA graduate from Canterbury Business School. She started her career as the second secretary for Public Diplomacy at the South African Embassy in Paris. Later on, she joined the communications department at Societe Generale Corporate and Investment Banking and served there for four years. Prior to joining Brand South Africa, she has worked with South African Tourism as a Country Manager. 
Martin Neethling
Chief Marketing Officer at Pepsico
Martin Neethling is an experienced business and marketing leader. He is currently CMO of the Sub-Saharan Africa region for PepsiCo, building out capability within the post (Pioneer Foods) acquisition business model. He held senior positions in various domestic and multinational businesses in the retail, advertising and FMCG sectors, including BBDO, Pepkor, IJ and Unilever). He has also spent time in academia and consumer research. A marketer at his core, he is passionate about South Africa and fascinated by its ever-changing socio-political and economic landscape.
Neethling is a Board member of both the Consumer Goods Council of South Africa (CGCSA), as well as the Marketing Association of South Africa (MASA) and serves on the Final Appeals Committee of the South African Advertising Regulatory Board (ARB). Neethling is also a research associate at the UCT Liberty (previously Unilever) Institute for Strategic Marketing. Neethling will be speaking at VMF South Africa.
Also Read: Is South Africa MarTech Ready?
Nthabiseng (Hlophe) Matshekga
Executive Head: Group Marketing at Nedbank
Nthabiseng Matshekga is the Executive Head of the Group of Marketing at Nedbank. She discovered her passion for marketing during a management development programme. Since then, she's charted the course for growth for several well-known local and global brands. She has led many organisations in developing marketing strategies and brand positioning. 
Nthabiseng joined Nedbank from Vodacom, where she held various positions, including heading up the Segment Marketing division in their Enterprise Business Unit. She has a BCom Economics from the University of Natal, an MDP from the University of Pretoria, and an MBA from GIBS. She is passionate about purpose-led marketing and her role in ensuring that a brand is positioned to deliver its purpose and essence. Matshekga will be speaking at VMF South Africa.
Natasha Matos Hemingway
Chief Marketing Officer at Multichoice Group 
Natasha Matos Hemingway is a bold and empathetic leader with experience in executing transformational projects across public and private enterprises. She specialises in enterprises and SMB sales, strategy, marketing and sales operations in a career mainly in the African continent, with an expanding experience into the CEE and MEA regions. As CMO at Multichoice, she leads the marketing and commercial teams of the connected video business, covering key customer areas that include customer experience, marketing and design studio, performance marketing, social media, PR and communications, market development through partnerships, as well as CRM and data analytics. 
Also Read: Top Women CMOs in the Middle East 
Nancy Moodley
Head of Customer Experience, Digital & CRM, Nissan
Nancy Moodley is responsible for leading cross-functional transformational strategies and deployment of customer experience and precision marketing, with 14 years of experience driving the successful market positioning for Nissan South Africa. Over this period, she has provided direction in developing and implementing global best practices and strategic initiatives across multiple functions to support the delivery of brand, marketing, product, sales, commercial and regulatory obligations. Moodley will be speaking at VMF South Africa.
Suhayl Limbada
Marketing Director at KFC South Africa
Suhayl Limbada is a people-oriented marketing leader with a strong track record of positive brand results and commercial success in various roles. He is passionate about people, creativity and brands. Before joining KFC South Africa, he has delivered his marketing strategies for the brands like Yum Restaurants International, Mondelez International and Kraft Foods Group. He holds a degree in MCom with Marketing as a specialisation from Rhodes University.
Thulani Sibeko
Chief Marketing Officer at Standard Bank Group
Thulani Sibeko is a business leader and marketing and communication executive. He has demonstrated results in the consumer goods, telecommunications and financial services industries. He studied and worked in South Africa, Zimbabwe, the US, and the UK, with regional leadership experience in Africa, Middle East, Eastern Europe and India.
Sibeko is a marketer with a deep insight into how to get things done internally while meeting the needs of external partners and beating his targets. Sibeko has completed his MBA from the Henley Business School and BS in Business Administration from the California State University – Sacramento.
Also Read: VMF 2021: Marketing Leaders Who Are Sharing Their Insights
Willie Peters
Head of Marketing at Shoprite Group of Companies
Willie Peters has expertise in brand management, social media marketing, digital strategy, digital marketing, media planning and customer insight. He has a bachelor of commerce and a master of commerce from the University of Stellenbosch. Peters has been working with the Shoprite Group of Companies for almost 10 years.
Zubair Noor
CMO at superbailist.com
Zubair Noor is well versed in online marketing and advertising, digital marketing and conversion optimisation. He is analytical and detail-orientated. Before joining superbailist.com, he worked with takealot.com, kalahari.com and Africa Internet Accelerator. He has completed his degree in bachelor of business (science) from the University of Cape Town.