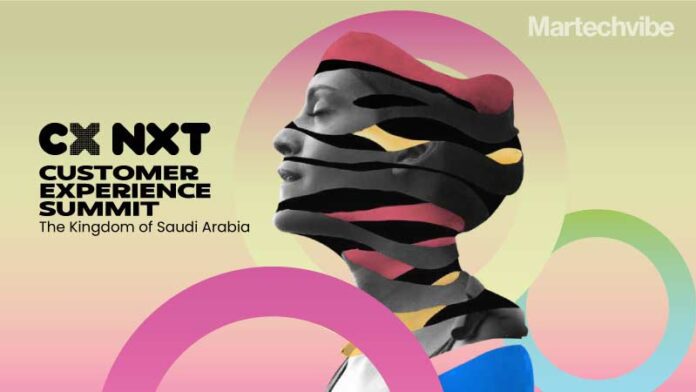 CX NXT – the region's biggest Customer Experience summit, brings together industry experts to explore how technology enables strategy and culture trends that align with new-age customer expectations.
CX NXT 2023 will be held in the Kingdom of Saudi Arabia (KSA) as a two-day in-person event on March 14-15, 2023, with over 200 delegates scheduled to attend.
Produced by Martechvibe, the leading digital title focused on CX, Marketing Technology and Innovation, the Customer Experience summit — CX NXT will bring together world-renowned CX experts, brand and product leaders in-person to share insights and solutions — this time in Riyadh, KSA. Innovative technology providers and marketers will come together as a community to exchange notes and prepare for successful CX in 2023 and beyond. 
The Kingdom of Saudi Arabia is fast emerging as a prominent digital destination. The Kingdom has been named as "Top Digital Riser" among the G20 nations due to the comprehensive government support for digital transformation in the Kingdom as part of Vision 2030.
The KSA also strives to diversify its economy and increase its local and global tourism. Considering the fast emerging technology landscape in the KSA, there is a continuous need to improve the end-to-end customer digital journey.
Earlier to this summit, CX NXT was held successfully in Dubai, UAE, in 2022.
The speakers in earlier editions included Colin Shaw – Founder and CEO of Beyond Philosophy and author of seven bestsellers on customer-driven strategies; Steven Van Belleghem, international keynote speaker, bestselling author, and co-founder at Nexxworks; Grégoire Charpe-Civatte, Group Director – Customer Experience and Innovation at Majid Al Futtaim, Leo Dovbenko, Founder and CEO Yalla! Market, Rahul Rajpal, Director of Global Customer Experience at Google Ads, Diego-Tarek de Aristegui, Chief Marketing Officer at MANO and many more.
Interactive sessions at CX NXT, KSA will provide takeaways for attendees on developing a team of CX champions, combining digital, cognitive and interpersonal skills and how enterprises can revamp their learning and development programmes for customer-facing roles.
CX NXT is on a mission to demonstrate how technology, strategy and culture can provide the experience that new-age customers demand.
Lucidya came onboard as a presenting sponsor. Unifonic joined as a gold sponsor, WebEngage and Silah as sliver sponsors, and The CX Group as an associate sponsor. Exhibitors included CRM Middle East, Evam, Netcore with Tealium as the networking sponsor and Saudi CX Association as the supporting association.
For more information and registration, visit cx-nxt.