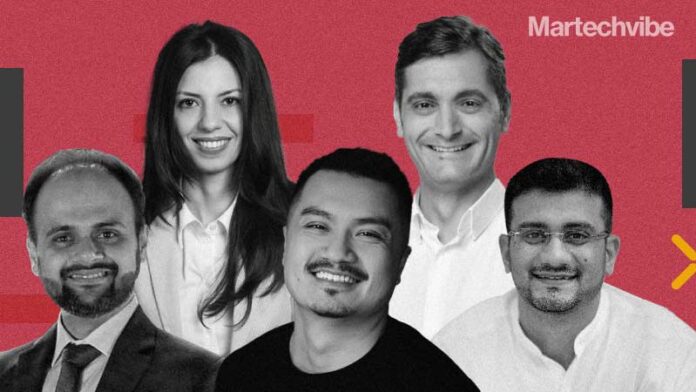 Martechvibe asked five marketers of leading brands at Vibe Martech Fest to share one critical piece of advice for the community of peers. Here's what the experts had to say…
Vibe Martech Fest approaches business challenges with real-world solutions from leading brands and veteran marketers. VMF, the fourth in-person edition attracted over 500 delegates at its annual marketing and technology leaders' summit.
What is one piece of advice you would like to give marketers?
Steve Lok –Senior Director, Martech | Bain & Company
Absolutely hold your IT group to task. It is absolutely important to make sure they work with you and not against you. You need to align so you both are working together towards the same goals.
Suryaveer Singh – Head of Loyalty | Emirates National Oil Company
Stay relevant and stay customer-focused. Use tech to help aid any marketing activity that you do so you can give your customers the best experience every time they interact with your brand.
Sanjeev Nichani Head of Loyalty and CRM, Apparel Group
Have a look at the data that you have got — it's a minefield of information. Evaluate your technology stack in a way to derive the best insights from the data that you have got.
Nazim Erdoğan Chief Marketing Officer sahibinden.com
Listen to customers—this insight is crucial. If you accurately understand the customer, doing your job will become much easier. We are trying to sell our product or service to the customer so you need to present your proposition in the way the customers are searching for it to solve their challenges, not to sell your product. If you do this, success will come.
Joana Tene Global MarTech Lead Whirlpool Corporation, The Netherlands
Before going ahead in your journey, it is important to know where you currently stand. Go back to the assessment of your current Martech stack to check capabilities, run a maturity assessment and then build a roadmap in order to develop.
If you liked reading this, you might like our other stories
Vibe Martech Awards: Recognising The Stellar Performers
Making Your Martech Stack Future-ready