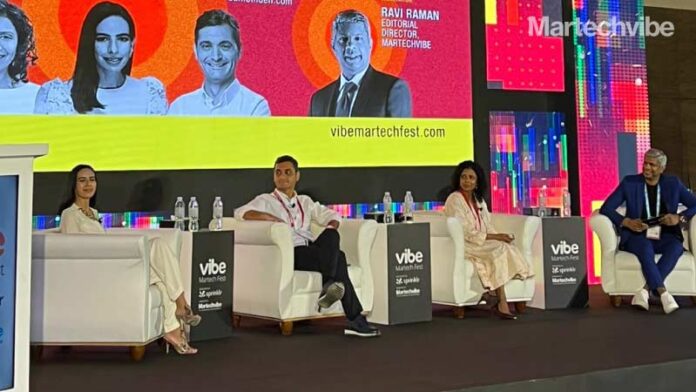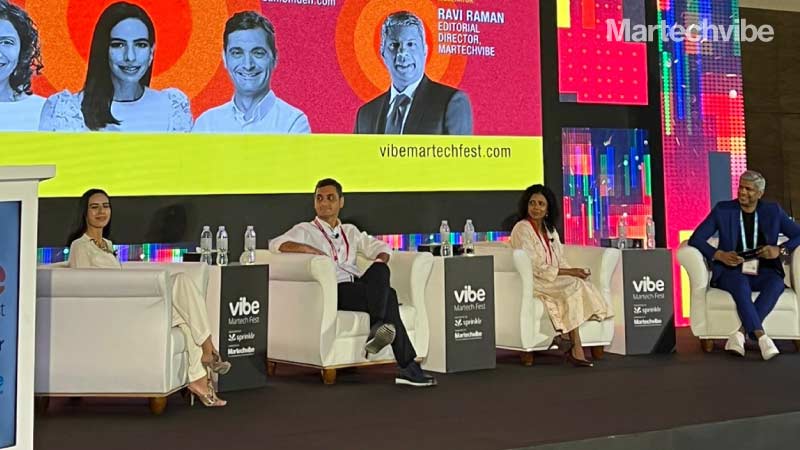 Day one at Vibe Martech Fest saw Martech leaders share critical learnings on how marketers must consolidate tools, invest in tech and create an organisational culture that aligns people and processes
Vibe MarTech Fest's (VMF) fourth in-person edition attracted over 380 delegates on the first day at its Dubai venue.
Sowmya Iyer, Founder & Chief Executive Officer at DViO Digital, talked about how brands and businesses can start with Metaverse today. She described Web 3.0 broadly as the shift in technology and the way we are going to experience the internet. It is about decentralisation packed by blockchain technology which will ensure that there's no one entity holding all your data, ownership of digital assets, it's almost the same way as Metaverse. While explaining the concept of metaverse, Iyer shared an example of Walmart metaverse shopping experience and stated that, "Metaverse should do what you cannot do in a physical world."
In a three-member keynote, panellists approached the common concern of Getting The Most From the Martech Stack. Speaking at the panel, Alyza Beg, Group Chief Marketing and Communication Officer at Easa Saleh Al Gurg Group said, "Our goal is to create an ultimate level of personalisation, and ensure a unique experience for our consumers' unique needs."
Other panellists included Lianne Braganza- D'Sylva, Chief Marketing Officer at Cigna Insurance Middle East & Africa, and Nazim Erdoğan – Chief Marketing Officer at sahibinden.com.
Among the most cited Martech complexity drivers for CTOs, Steve Lok, Senior Director, Martech at Bain & Company, said, "Around 67 per cent of companies replaced at least one Martech tool in 2021. Change is expected to continue with the unprecedented speed of tech innovation."
App Walkthroughs & Contextual Nudges
In the age marked by changing consumer behaviours and uncertain economic conditions, it has become imperative for marketers to understand how to effectively acquire customers, retain them and keep them engaged with the brand by delivering quality products or services and investing in seamless cx. Customers discovering the product is an essential step in the customer journey according to Mayank Tomar, Head – Product Evangelist for Overseas Market at Netcore who talked about leveraging the power of AI-led personalisation to help customers discover products they love, and make them come back for more. He described the trifecta of customer experience as seamless product discovery, contextual walkthrough, and interactive media. He shared WhatsApp's example. Tomar spoke about contextual walkthroughs and how it is forming specific habituation. He said, "We use WhatsApp over other messengers, mainly because of UI and UX."
CX Stems from Culture
In a panel on engaging customers via their preferred communication channel, Rami Zahran, Chief Marketing Officer at Saudi German Health joined Achilles Manolopoulos, Head of Customer Experience at Zand, Ilaria Buonpane, Director of Customer Experience, MENA at Talabat, Joe Akkawi, Senior Manager, Global Strategic Accounts at Sprinklr, and Bertan Budak, Digital Marketing Director at Property Finder. "Have a no tolerance approach for CX and technology. Purchasing CX tools without the right people endangers results, so having the right agents is important. When you have people who don't know how to use the tools, you're wasting your money," said Zahran.
Sustainability is another big priority. For brands, this starts with creating awareness, and a sense of responsibility. "From packaging to giving consumers an option to choose their delivery timing, giving them a choice to take an environmentally conscious decision is also important," said Braganza-D'Sylva.
Sprinklr is the Presenting Sponsor for the summit. Salesforce is Strategic Sponsor. Tealium, Branch, Netcore, ObservePoint, Sitecore & HCL Unica come on board as Gold Sponsors. AppsFlyer, Braze, Verint, SAS & WebEnage are Silver Sponsors. Networking Sponsor is Optimizely.
Zoho is the Associate Sponsor, Cvent joins as Event Technology Sponsor and American Eagle, Pixis, LS Digital, Epsilon, ReBid & MoEngage join as Exhibitors. Bloomreach joins as a Visiting Partner.