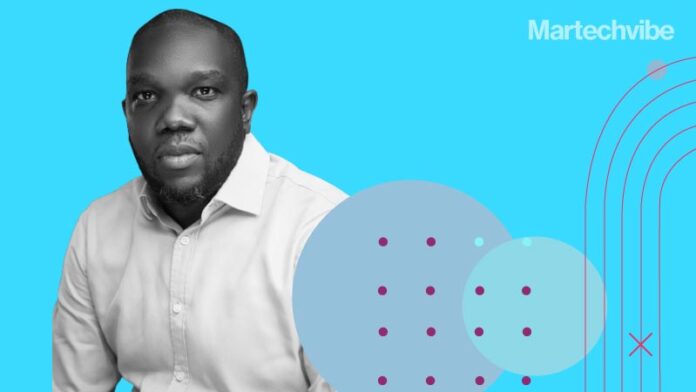 Chuka Amadife, COO of Terragon Group, Africa's leading data aggregation, enrichment and activation platform, talks about the company's experience in data and MarTech, detailing the peculiarities about the African market, how its Customer Data Platform differs from others and why the real power and growth lies in making the solutions "African-first" to meet the unique demands of the market.
How have brands in Africa addressed digital disruption?
Digital transformation has been a strategic priority for a while but was super-charged during and post-pandemic. It was no longer a 'nice thing to do' on the strategic agenda but a 'must do' for the company's survival. We've seen the brands that we work with thrive, and unfortunately, are continuing to see the laggards in digital and data transformation fall drastically behind. Several brands saw the disruption as a huge opportunity and rose up to the challenge by responding swiftly with innovation, product trials and learnings, while others weren't as nimble, simply went under. 
We are technology enablers, and so we find ourselves becoming even more relevant to several forward-thinking brands focused on digital transformation to drive business growth. During the Covid-19 pandemic lockdown in 2020, our banking clients, for instance, leaned heavily on us to help drive the adoption of their digital channels. Using our marketing platform, which gives access to over 350 million African profiles, we were able to effectively target potential customers and drove adoption of digital channels by up to 10 per cent and banking app downloads by up to 26 per cent at a much lower cost of acquisition for two of our financial services clients.
Across different markets in Africa, we see digital maturity by brands at different levels, however, what is constant is recognising the importance of data for business intelligence and consumer engagement. Data is key, and the last year proved to brands how critical data is to not just competitive advantage but to business survival. We saw a lot of brands pay more attention to consumer data and insights to make more informed decisions and to engage with their customers in a more meaningful way.
The lockdown brought about increased digitalisation across various aspects of our lives, from commerce to retail, education, logistics, entertainment, and so brands were forced to go digital to continue to serve consumers. Despite the ease of the lockdown in most markets across the continent, businesses have scaled their digital offerings to make sure that they meet the expectations of today's consumers.
On the other hand, the change in consumer behaviour in response to digital transformation has also caused brands to be more data-focused. An example is a top multinational FMCG brand with a presence in 22 countries in Africa, including Nigeria, South Africa, Kenya and Egypt. In 2020, this brand needed to build a first-party database and get real-time deep insights into its customers. The brand simply wanted to be able to anticipate its customers' needs and deliver personalised experiences at scale. With our Customer Data Platform, they were able to collate and manage their customer first-party data and build a database of 1 million customers, enriched to provide deep insights in real-time. This year, they are set to grow that database to 4 million using our CDP.
With technology giants like Facebook, Google, Amazon and Microsoft getting active, do you see Martech growth in Africa?
The arrival of big global digital and data players in Africa signals the potential and opportunity on the continent. It's not a question of MarTech growth, as that is clear and is already happening, but how fast and with what solutions. In Africa, the headroom for digital transformation is enormous, and we see it accelerating at a tremendous pace, as brands borrow the best and most relevant from developed markets, but as we've always done, customise the solutions for an African context and consumer. That is where the real power and growth lies in making the solutions 'African-first' to meet the unique demands of our markets. Other markets are at a maturity level, so every improvement will be incremental, whereas the implementation of MarTech solutions in Africa will be downright transformational. 
While there is a tremendous appetite for progress, learning and education, there is a lack of quality providers that can bridge the gap between the global MarTech players and the African context. While markets like South Africa are relatively invested in the use of data through the use of MarTech software such as the CDP, we find that there is still a need for robust and relevant customer education and knowledge transfer in other markets, including Kenya and Nigeria. 
We are passionate about accelerating transformation on the continent, and realising this underserved space, have partnered with the Mobile Marketing Association to develop a continent-leading education series for brands, agencies and SMBs to accelerate their learning and ROI. 
Another point to note is that the global MarTech Industry grew by 13.6 per cent in 2020, according to Chiefmartec and even though that figure speaks primarily to more mature markets in the West; we find that there's a ripple effect in Africa from these multinational firms who have a regional presence in Africa. While we work towards educating and advocating the use and adoption of MarTech tools like our CDP, Indigenous brands find that our advocacy is consistent with the type of growth and advantage these multinationals (who leverage data and MarTech tools) are deploying. 
The Big Tech companies being more active in the continent has attributed to the rapid adoption of mobile and digital channels, which has increased the need for mobile-first solutions. This is why global Big Tech is actively seeking out partners on the continent who understand the landscape, have boots on the ground, and have the expertise to deliver to the unique needs of the African consumer. 
For instance, third-party cookies are going extinct in 2023. Facebook has developed a solution (The Facebook Conversions API) to help brands prepare for the cookie-less world. However, to launch this effectively and drive solutions for brands in Africa, they have partnered with Terragon, the only African CDP partner for the Conversions API, to scale adoption and implementation. We also work with other tech giants, including Amazon and Microsoft, who currently power our platforms. With these Big Tech companies supporting companies in Africa at various capacities, it's a win-win for the continent in terms of growth. 
Also Read: Is South Africa MarTech Ready?
Which segments are showing the highest growth?
Without a doubt, that would be SMBs. SMBs show the highest growth potential simply because of the ability to scale quickly. In Africa, SMEs are the largest contributors to the economy.  I'll give you two examples from two key African markets: In Nigeria, for instance, SMEs contribute 48 per cent of GDP, account for 96 per cent of businesses and 84 per cent of employment (according to the Nigeria Bureau of Statistics.) While in South Africa, SMEs represent more than 98 per cent of businesses, employ between 50-60 per cent of the country's workforce across all sectors, contribute 39 per cent of GDP and are responsible for a quarter of job growth in the private sector (according to Mckinsey).
This means that empowering this sector can transform our continent. Unfortunately, they are plagued by many challenges, such as access to funds, infrastructure, which is why we are actually turning our attention to this critical sector at this time. It is also incredibly under-served from a MarTech platform perspective, yet these are the very solutions that can fuel their growth effectively. 
Our platform, Terragon Prime, caters to big enterprises and is also tiered to cater to SMBs, and we've seen a lot of uptake in that area. We are currently working with a Big tech and one of the top Telcos, with a presence in about 17 countries in Africa, to provide a one-stop solution for SMBs to effectively engage their customers online and offline and ultimately improve their business outcomes, specifically in the area of increasing visibility, acquiring more customers, facilitating transactions and lots more. 
Terragon uses AI-driven insights and analytics to increase personalisation and ROI. Tell us about your key wins. What were the challenges in convincing clients?
We've had several key wins. Oftentimes, exceeding the marketing objectives set by the client for campaigns. 
The success we've been able to achieve can be attributed to the uniqueness of our platform, built for the African market. Despite the growing rate of internet penetration in Africa, the majority of mobile subscribers are still offline. Our solution allows for offline-online matching and data enrichment. We also have a very strong partnership with data supply partners owners, including leading Telcos across the continent. With this, we are always able to provide tailor-made solutions for the African market and deep insights that rivals what you can get anywhere in the world.
A leading bank in Africa needed to drive business growth through the adoption of its digital channels and had a target of 10,000 new customers in one month. We were able to identify the right target audience within the bank's existing database by aggregating their data across the different business units and enriching this with data from our third-party supply sources, giving us deeper insights into these consumers; while through ML, these customers were further qualified by their propensity to take up this offer and were then engaged with via offline marketing channels.
At the end of the campaign, we exceeded the target by 80 per cent over a period of one month.
For another financial services client, we were able to successfully reactivate over 16,000 accounts of dormant customers and generate over 70,000 transactions, leveraging the demographic and psychographic data enrichment capabilities of our CDP. The CDP can present data information on age, gender, location, interests, spend-power, etc.
Also Read: South Africa's CMOs To Watch
Africa is witnessing growth in smartphone penetration, but there's a challenge in harnessing data effectively. So how is Terragon overcoming data access to help businesses?
With increased smartphone penetration across the continent comes increased touchpoints where consumers leave data trails and digital footprints. According to Statista, mobile internet penetration currently stands at 47 per cent in Nigeria, 56 per cent in South Africa and 40 per cent in Kenya and these numbers are projected to keep increasing. These stats from these key markets indicate the upward growth trend of smartphones and, by extension, internet adoption of African subscribers.
Africa is a "mobile-first" market, meaning most subscribers' first introduction to the internet is via smartphones, not a desktop. Our Telco integrations allow us to get the most relevant data on consumers and provide the most effective channels to reach them.
With consumers depending on their mobile for entertainment, communication, commerce, payments, education and even health, we can aggregate the most relevant data sets on consumers and can help brands effectively deliver much better customer experiences while engaging with customers. 
When dealing with consumer data at scale, data privacy is critical. As data processors, we work with Telcos and other data supply partners who depend on us to monetise their data with the highest level of data privacy compliance. Our CDP is verified by the globally renowned CDP Institute, and we currently are the first and only African company to be listed by the Institute. We are also GDPR compliant and NDPR and ISO 270001 certified.
What are your future plans? How do you see the sector changing in the foreseeable future?
We see rapid growth in this sector  — all the signs point to consumers' adoption of mobile and internet, their behavioural shirts towards digitisation and brands adopting digital transformation. Terragon is primed and positioned to take advantage of these opportunities. 
We've positioned ourselves to become a preferred partner for global Big Tech seeking inroads into Africa to solve data and marketing challenges, such as the Facebook Conversions API. We are about to launch a marketing and advertising tool for SMBs, and we are working with digital agencies with operations across the continent to provide MarTech solutions for their clients.
Data is key, and as brands continue to recognise the importance of this as a critical asset, they increasingly see the relevance of our CDP, purpose-built for Africa.