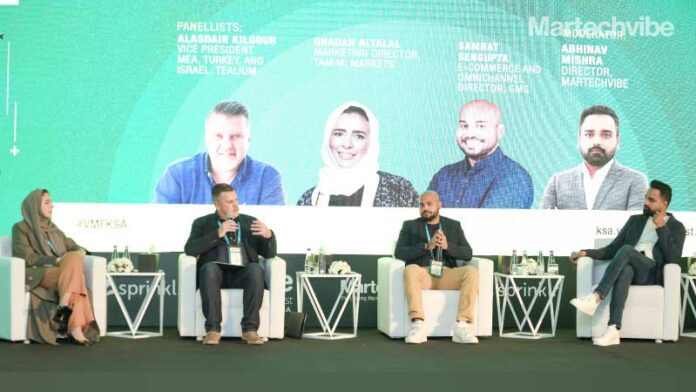 #VMFKSA

Vibe Martech Fest took place in Riyadh, Saudi Arabia, on October 18 and 19, 2022. In case you missed it, here are the big learnings from the summit

Vibe Martech Fest, Saudi Arabia, was attended by over 150 marketers. The summit took on challenges like adapting to a modern marketing funnel, the evolving definition of Martech, the changing role of the CMO, and driving digital transformation holistically in enterprise.

Global Martech leaders Neil Patel and Fraser Hay were keynote speakers at the summit. The lineup was made up of marketing and technology experts from the region, such as Khaled Tash, Group Chief Marketing Officer at Saudi Airlines; Tiago Rocha Da Silva, Chief Marketing Officer at Zain KSA; Aamir Allibhoy, Chief Marketing Officer at Tim Hortons, Arham Khan, Head of Growth at Nejree; Krzysztof Kowalski, Chief Marketing Officer at YAP; Mostafa Khalifa, Chief Growth Officer at Alessa Industries; Norah Saud Alsaja, Head of Marketing at Majid Al Futtaim; Milo Abou Jaoude, Director of Products & Solutions, Solution Architect – Customer Solutions Center MENA Central Cluster at Mastercard, and many more.

Key learnings from the summit;
Eliminate the Complexity
Go beyond buzzwords, said Fraser Hay, Founder of itstacksup.com and author of Martech Simplified. He asked marketers to get to know their customers on a human level – not on a spreadsheet level.
At last count, there are 10,000 martech solutions. This can create complexity in identifying and investing in solutions to build a unique stack for the enterprise. To remove this complexity, he asked marketers to list their top five business frustrations and then prioritise three to solve immediately. It's easy to spend most of the work day on processes that feed these solutions. Here, you need to ask your team if the value it gets from this task is worth the work.
Make sure the tools work for you and not the other way round, advises Hay. To overcome this, Alan Azar – Regional Director of Marketing Tech & Analytics at Reprise, suggests regularly auditing the tools used within the organisation and tracking their effectiveness.
One of the biggest mistakes brands make is not looking at long-term relationships with customers and focussing on immediate business gains, said Ghadah Altalal, Marketing Director at Tamimi Markets. She advises marketers to segregate what's in it for the business and the brand long-term.
Reduce Martech Waste
There are more technology solutions than ever before, but marketers need to choose wisely so their systems speak to each other.
Enterprises are only using about 42 per cent of their martech capabilities. "But you are paying for 100 per cent," said Patel. That means that marketers are looking for other solutions to do the rest of the work. He quoted a study that said 82 per cent of marketers plan to change their martech stack next year.
To reduce waste, Patel suggests not only investing in the technology but also focussing on education and training to get the true value.
Follow the Digital Breadcrumbs
Data drives growth – this is a point that multiple speakers reiterated during their discussions. Customers have accelerated their online behaviours during the pandemic, and it's time brands evolved to keep up.
Samrat Sengupta – E-commerce and Omnichannel Director | GMG, Ghadah Altalal – Marketing Director | Tamimi Markets and Alasdair Kilgor – Vice President – MEA, Turkey, and Israel | Tealium, participated in a panel discussion about using personalisation to increase retention. Customers leave digital breadcrumbs, said Sengupta. They expect brands to use this data to create more personalised, contextually-relevant experiences. Customers want brands to talk to them on the channels they prefer and in a language they are comfortable with. To do this, companies need to use data to inject intelligence into their marketing actions.
Every Company is a Technology Company
Customers are always online. So the marketer must be aware and in control of this online journey. To do this, enterprises need to build this capability. "Compared to three years ago, I have the same number of managers looking at pricing. I have double the number of managers looking at customer experience and four times the team looking at digital," said Tiago Rocha Da Silva – Chief Marketing Officer at Zain KSA.
According to Da Silva, the role of the CMO has changed to one that is more technical, experience-driven and cultural. Most companies need to have marketers with technical skills because they have the right customer perspective compared to pure technical talent.
In his analogy, Dr. Waheed Baghdadi – GM of Digital Media at Rotana Media Group, said the digital team plays the role of the architect, whereas the IT team acts like the civil engineer. Together, they build a robust and well-designed house. He encourages enterprises to operate similarly. "Everything you need in your organisation will be designed and developed by your digital team. While each department is going through a data transformation, how can we sync up to make it meaningful across departments?" he asked.
Khaled Tash – Group Chief Marketing Officer at Saudi Airlines, suggests setting up a data-driven organisational culture and using it as a powerful brand driver. Do this starting with employees and then target it outwards to the way you approach customers.
Be Competitive and Connected
Thought leader and Metaverse mastermind Kumardev Chatterjee spoke about marketing in the metaverse. He talked through how brands can begin their journey using virtual communities. Chatterjee shared his advice for marketers; Web 3.0 is here to stay, and the sky's the limit. There will be a convergence of platforms, and brands need to connect directly with customers without intermediaries to be unique in their approach.
Conclusion
The Kingdom of Saudi Arabia has 34 million internet users as of January 2022, according to a report by Kepios. With an internet penetration of 97.9 per cent of the total population, it creates an opportunity for brands to find consumers where they spend their time and engage with them in a personalised manner.
Sengupta suggests using data about customer behaviours to inform marketing actions that don't necessarily need to aim at making a sale. For example, Nike has created a strong community through its Nike Membership Club. Joining the program gives customers access to training support, educational content, free workout classes, and inspirational content to keep them motivated. Members are attracted to the sense of community of like-minded people as much as they are to the brand. While this initiative isn't aimed at pushing sales, the brand can gather more data points about customers' activities, frequency and behaviour that go beyond transactions.