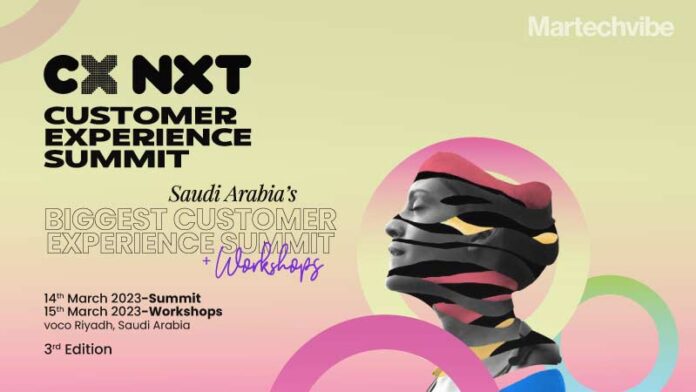 CX NXT – The Customer Experience Summit, 2023, will be held in the Kingdom of Saudi Arabia (KSA) on March 14-15, 2023. The summit will have a range of sessions, from keynote addresses to fireside chats and panel discussions, which will help delegates and CX experts sharpen their focus and align with the changing business requirements.
The wait is almost over for CX NXT 2023 by Martechvibe, happening in the Kingdom of Saudi Arabia this month on March 14-15, in association with The Saudi Customer Experience Association. This edition of the customer experience summit will follow a conference workshop format. 
Focusing on the trends driving the CX conversation in the region, the summit will pursue in-depth workshops that delve into achieving enterprise goals. 
Ninety-six per cent of Saudi Arabian businesses have listed customer experience as a top priority when assessing performance. As the market continues to evolve constantly, so do the customer needs. In such a scenario, brands must proactively maintain suitable customer relationships lest they put their scalable success at risk. Excellent customer experience is bound to breed loyalty and boost an organisation's overall well-being and growth.  
The customer experience summit will offer diverse sessions from keynote addresses to fireside chats and panel discussions which will help delegates and CX experts sharpen their focus and align with the changing business requirements.
Here is a quick look at the CX NXT – KSA sessions you can't miss:
Patrick Fagan, Chief Scientific Officer at Capuchin Behavioural Science, will deliver the keynote address sharing 101 ways to become victorious in the experience economy. Fagan will share magical ingredients for crafting experiences that will win more loyal customers for the brands. 
Ricardo Trade, Deputy Chief Executive Officer at FIFA World Cup, Qatar 2022, will speak about unlocking the potential customer or fan experience beyond the pitch. Trade will share how one can use empathy and create a personal connection with the audience to help brands drive favourability and deliver the ultimate experience. 
Finding the ultimate CX equation is a challenge for every enterprise, whether B2B or B2C. Ensuring a frictionless customer experience is similar to scoring a matchpoint. In a discussion titled 'Finding the Ultimate CX Equation for Success,' Abdulaziz Felemban, Associate Director of Customer Support at noon, Anas Hermaid, Customer Success Director at Lucidya, Ehsan Bin-Abdullah, Director of Customer Experience at Tawuniya, and Cary Lawton, Head of Group Customer Experience and Clienteling at Chalhoub Group will discuss the key pointers to deliver experiences matching customer expectations. 
In a fireside chat, Hetarth Patel, Managing Director UAE and Vice President MENA at WebEngage, will discuss making every move count while navigating newer channels and touchpoints. Patel will touch upon the metaverse's potential and discuss achieving tech-human balance for executing the correct customer journey map for business. 
CX leaders should pay attention to the importance of customer feedback. A keynote address by Alex Genov, Head of Marketing Insights and Customer Research at Zappos Family of Companies, will discuss how the customer's voice is the most valuable asset in any business. Genov will explore ways of amplifying that voice and giving it the attention it deserves. 
With Saudi Vision 2030 underway, a panel discussion at the conference will discuss Vision 2030, pondering how customer experience could be at the forefront of the KSA's several initiatives and contribute to harmonising the outputs of the Saudi Vision to achieve the optimal quality of life. Panellists Abdulaziz Alshamsan, Founder and CEO at CXKSA, and Abdulaziz Alosime, General Director of Customer Experience at Riyadh Municipality, will participate in the discussion. Abdullah AlGhamedi, Founder & Chairman of the Board at CX Saudi Association, will chair this session.
Lucidya came onboard as a presenting sponsor. Unifonic joined as a gold sponsor, WebEngage and Silah as sliver sponsors, and The CX Group as an associate sponsor. Exhibitors included CRM Middle East, Evam, Netcore with Tealium as the networking sponsor and Saudi CX Association as the supporting association.
For more information, visit CX NXT – KSA