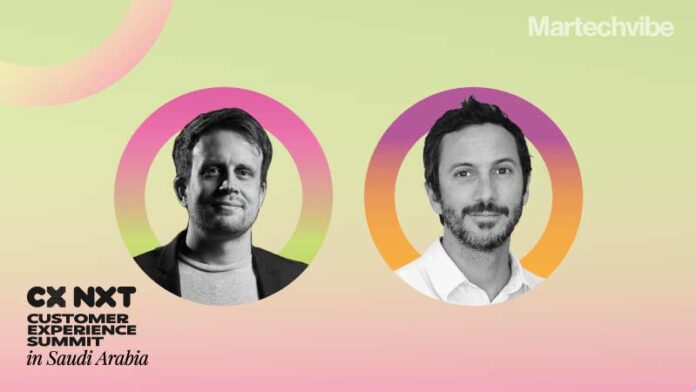 Behavioural Psychologist Patrick Fagan and Regional CX Director of MRM – Oliver West will lead workshops on leveraging CX solutions to drive business outcomes at CX NXT – the customer experience summit taking place in the Kingdom of Saudi Arabia on March 15, 2023
CX NXT 2023, organised by Martechvibe, will take place in the Kingdom of Saudi Arabia (KSA) on March 14-15, 2023, in Riyadh, supported by the Saudi Customer Experience Association.
Day 2 of the biggest customer experience summit in the Kingdom presents a unique opportunity for pre-registered delegates to attend two workshops focused on driving CX conversations within their organisation, and how to create sustainable business outcomes. Attendees will receive a Martechvibe certification upon completion of the workshops.
Ninety-six per cent of Saudi Arabian businesses listed customer experience as a top priority. In the current scenario, where market conditions are constantly evolving, excellent customer experience is crucial to boost loyalty for overall brand well-being. Considering this, the celebrated author of Hooked, a book about the psychology of marketing communication, Patrick Fagan and Oliver West, a Certified CX Trainer, will conduct two workshops that will offer a practical guide to leverage the CX stack to deliver measurable results.
Turning minds into money
Patrick Fagan, a behavioural psychologist and the Chief Scientific Officer at Capuchin.  Fagan is a guest lecturer at three London universities and has published peer-reviewed papers on topics ranging from Facebook psychology to facial expressions. In his previous roles, he was the Lead Psychologist at Cambridge Analytica.
Fagan will conduct a workshop titled Experiences with Personality. He uses behavioural science tools to optimise customer experience. He will speak about how data can be leveraged to customise the tone, mood and nudges of customer communications to influence decisions.
Human-centric marketing
Oliver West is the Regional CX Director at MRM. He will conduct a workshop titled The Collision of Marketing and CX to explore the critical conflict points between marketing objectives and human-centricity. Marketers will take away the understanding on how to apply human-centric marketing activities across touchpoints in the customer journey. West will share tested strategies and tools to create sustainable business outcomes.
Over 200 delegates are scheduled to attend CX NXT. The summit will cover CX priorities like identifying the right technologies to ease personalisation, adapting to the phygital space, building a digital roadmap for advanced CX, leveraging conversational AI, and how data mining can help measure marketing success.
For more information and registration, visit CX NXT