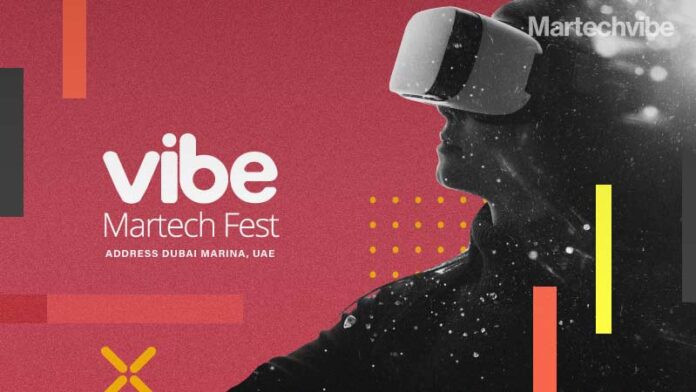 VMF ME will cover a wide range of topics such as getting the most from your martech stack, boosting customer engagement, composable cloud experiences.
Vibe Martech Fest's Middle East in-person edition will take place on September 6 and 7, 2022. Here is our pick of sessions that can help marketers navigate the changing market dynamics;
Are You Getting The Most From Your Stack?
To maximise the potential of the martech stack, marketers must evaluate how they assist them in their tasks, and work with a variety of stakeholders to determine what is possible now, as well as what goals the marketing stack will achieve in the future. Panellists include Lianne Braganza – D'Sylva, Chief Marketing Officer at Cigna Insurance Middle East & Africa; Nazim Erdoğan – Chief Marketing Officer at sahibinden.com; and Alyza Beg – Group Chief Marketing & Communications Officer at Easa Saleh Al Gurg Group. The leaders will discuss how to prioritise and consolidate a martech stack, control and drive service excellence using vendor management and tips to align your goals with tech solutions so the customer wins.
Integrating People, Processes And Technology through Smart Marketing Operations
Steve Lok, Senior Director, Martech at Bain & Company, will speak about eliminating tech debt and tackling core marketing management challenges with operational martech. Lok is known for his emphasis on creating a feedback loop that measures ROI. He also delves into how an organisation can create a culture shift in step with a technological change.
Hit The Trifecta Of Customer Experience
The session with Mayank Tomar – Head, Product Evangelist (Overseas Market) at Netcore Cloud will highlight the power of AI-led personalisation to help customers discover products they love and make them come back for more. Learn about how to boost customer engagement using interactive, integrated, and gamified strategies that make customers fall in love with your brand.
The Clear Sky In The Cloud: Composable Cloud Experiences
Can a cloud-based, composable, digital experience platform keep your business away from rainy days? Hear from Jennifer Petrie – Customer Experience Director at Sitecore about the do's and don'ts of Cloud data management and customer experience.
Meta Meets The Future
In the near future, the metaverse is expected to manifest primarily through virtual reality, a digital alternative world that can be used to enhance personal and business lives. Priya Patel-Chomel – Head of Product Marketing – Middle East, Turkey and Africa at Meta will throw some light on how brands can navigate the metaverse and the opportunities that exist for both consumers and companies. Get a download of Meta's core applications, platforms and services that can deliver early metaverse experiences.
For more information, visit: https://vibemartechfest.com/