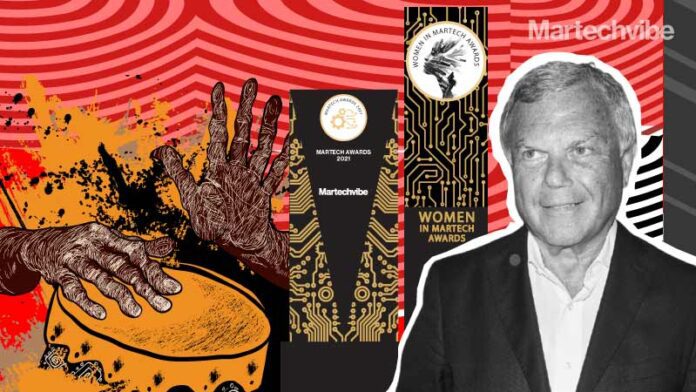 Vibe MarTech Fest (VMF), the event that occupies a prestigious position on senior marketers and IT professionals' calendars as the undisputed resource on MarTech, is back. 
With the theme, Next is Now.
You can't afford to miss being a part of an event that will shape the industry conversation and help companies adopt MarTech solutions faster and more effectively.
When Sir Martin Sorrell Speaks, The World Listens
Wall Street Journal chose to feature in its brand advertising. In the media-and-advertising world, Sir Martin Sorrell is consequential. 
The entrepreneur personally built the WPP from a wire-basket company to the world's largest advertising and marketing entity. The ad world titan launched the digital marketing holding company S4 Capital after his exit from WPP in 2018. He will be headlining VMF UAE to speak about addressing post-pandemic challenges, changing consumer and digital-only future.
Innovators Welcome: Vibe Martech Awards
This year, VMF introduces a new format of awards that celebrates Women in MarTech. Selected by the editorial team of Martechvibe, the award will recognise leading women marketers from the region who use technology to redefine marketing and CX. 
The awards have been created to advance the innovation and technology agenda and focus on the people making it happen. The objective of the awards is to identify luminaries from various fields, each making a significant impact in their respective industries.
Unmissable Sessions
The two-day conference will deep-dive into hot topics like lessons from COVID 19,  personalisation, real-time customer experience, leveraging data insights to drive higher conversion and the evolving role of the CMO steering businesses through adversity with purpose, technology, expertise and turning marketing activities into business results.
Drumming up Excitement
Feel connected, create music and enjoy the performance. Drumming has always been at the core of many community-based musical experiences, including celebrations and ceremonies. At the VMF, group drumming will be an opportunity for self-expression, interpersonal connection, and strengthening bonds.
Get Smarter, Connect MarTech Stack to Goals
Expert speakers, class-leading solutions and best marketing minds will come together to discuss MarTech strategy and practical implementation and decision-making for the right investments to improve bottom-lines. Delegates will learn to build and establish a blueprint: connecting the MarTech stack to goals. 
Top decision-makers in attendance will engage and influence the people who matter most when making investment decisions. 
This VMF edition has lined up speakers from top companies across key business segments, including retail, banking and finance, airline, software companies, FMCG and social media platforms.